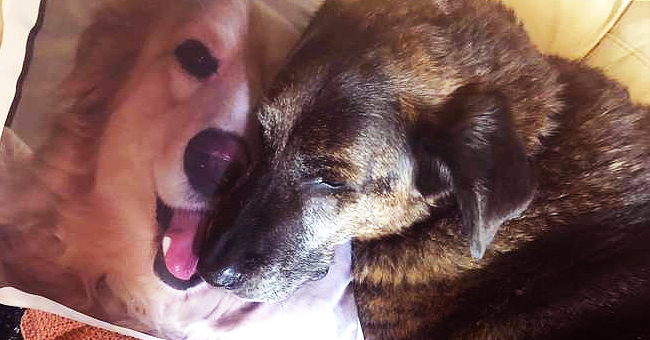 Source: YouTube/AnimalsWorld
Heartbroken Dog Won't Stop Cuddling into the Pillow of Brother Who Was Put Down
Being around pets, one realizes that they experience many of the emotions their human counterparts do. A good example is the touching story of Spencer and how he mourned the passing of his canine brother Rocky.
For ten years, Rocky and Spencer did everything together, as their owner Beth Fisher told The Dodo, "They had never spent a night apart. Rocky and Spencer slept in the same bed, ate from the same bowl, and always walked together when they went out."
But sadly their joyous times together came to a close after Beth took Rocky to the vet to find the cause of an ailment he had developed.
Instead, they made a shocking discovery too late. Rocky had cancer at such an advanced stage that treatment got deemed ineffective. Beth had no choice but to end Rocky's suffering.
"Rocky had to get put down that day," Beth said. "It was hard to process Rocky's sudden death, but we can't imagine how hard it must be for Spencer to have lost his little brother."
When Rocky didn't return from his vet visit, it left Spencer restless, and he spent his nights wandering around the house looking for his absent brother. "And then he starts crying because he can't find him," Beth added.
They placed Rocky's ashes on a shelf above their favorite sleeping spot in the hopes that somehow Spencer could sense his brother close to him, but he needed more to cope.
After giving it some thought, Beth's husband ordered a pillow with Rocky's smiling face printed on it online. Immediately, the pillow seemed to comfort Spencer.
"Spencer has been cuddling into the pillow since it arrived, carrying it from the sofa to his own bed," Beth said. "He seems a lot more settled now he's got something to cuddle into."
While Spencer won't drift off to sleep without the reassuring presence of the pillow, he continues to mourn his lifelong friend and brother. Beth is not sure Spencer will ever stop grieving as she added, "I don't think Spencer will ever get over Rocky's passing, but I hope he's able to learn to go on without him."
As Spencer mourns Rocky's passing, Beth added that she hopes he knows that his human family will always be there for him as she said, "We're hoping Spencer can take comfort in his new pillow, and take comfort from all the cuddles he's getting from his family."
While all dogs don't express themselves the same, Spencer's behavior is not unique as Tommy Matney shared a similar story.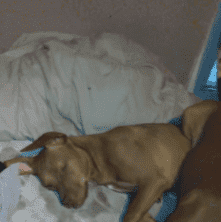 Lips the dog pictured laying on the bed. | Source: YouTube/Tommy Matney
In a video he posted to YouTube, Tommy showed how his three dogs, R.J. and her two daughters, Lips and Lengthy mourned the passing of another dog named Stuart, who Tommy brought home not long before the pup died.
"Lips over here was with him at the time that it happened and she has been very sad and mourning all day long," Tommy said as he showed Lips laying on the bed mourning.
The other two dogs joined Lips on the bed and kept close to her, almost as if they were showing their support in her time of grief.
Last year, a volunteer, Sarah Sleime shared the story of Cinnamon, a pit bull that got abandoned and ended up at the Charlotte Mecklenburg Animal Care & Control center in North Carolina.
The startling and heartbreaking resemblance Cinnamon showed to humans in her reaction to being abandoned, prompted Sarah to do whatever she could to find a home for the sweet and heartbroken pit bull.
Please fill in your e-mail so we can share with you our top stories!