Beth Chapman's Daughter Bonnie Shares a Series of Rare Throwback Photos of Mom
Bonnie Chapman's throwback photos of her mom, Beth, made her fans cry as they send her their support and prayers.
Bonnie Chapman, is the daughter of Beth, the wife of "Dog the Bounty Hunter's," lead huntsman, Duane "Dog" Chapman.
Beth Chapman is currently in a medically induced coma, following her hospitalisation on Saturday night, after experiencing breathing problems and passing out.
Bonnie, who has been by her mother's side, took to Instagram to share a photo slide of the reality star.
The first photo showed the 20-year-old Colorado native's hand holding that of her mum, and the others showed the 51-year-old reality star with Duane and little Bonnie.
The bounty hunter's daughter captioned the slide:
 "So thankful to call you my mum."
The caption evoked a tearful response from her fans.
They offered their support and prayers to the Chapman family, and Grambetty8, who commented on the touching post wrote:
 "Oh, Bonnie! You make me cry."
The fan added that Beth knows her young daughter is there, holding her hand, as she concluded saying:
"I can see how proud she is of you from the pictures; I think you are a wonderful daughter, and she is grateful for you and your love."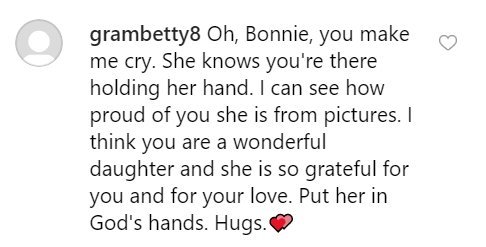 Two days before the throwback post, Bonnie shared on her Instagram story a photo of the equipment keeping her mum alive, writing alongside that she does not have any concrete update, but the TV star was getting the best care.
Since the bounty hunter got diagnosed with throat cancer in 2017, her young daughter has openly discussed her fears and anxiety over the threat of death looming over Beth.
Earlier this month, Bonnie referenced it in a post on Twitter, writing she would rather not return to Hawaii where the Chapman family resides, but in the light of her mother's hospitalisation, she is putting her anxieties aside to support Duane.
Everyone I know is so excited to go back to the islands, meanwhile I'll do anything not to return 🤷🏼‍♀️

— Bonnie Chapman (@Bonniejoc) June 7, 2019
The head bounty hunter has not left his wife's side since her hospitalisation. On Tuesday, he shared a picture of her wrist in medical bands on Twitter, joking about how much she loved her manicured nails.
Duane also shared another tweet to counter the rumours that Beth's condition has gotten worse and she has one foot in the grave.
The father-of-twelve wrote that 90% of the news is fake; he asked fans not to believe it, but wait for an update from WGN America, and keep praying for his wife.
90% of what you're hearing is fake news. I don't mean to be nasty but some are filling in the blanks. @wgnamerica will be releasing an accurate update soon. Please keep prayers coming!

— Duane Dog Chapman (@DogBountyHunter) June 25, 2019
Beth can use all the prayers she can get, and hopefully, Bonnie would get to spend more time and make more memories with her mum.