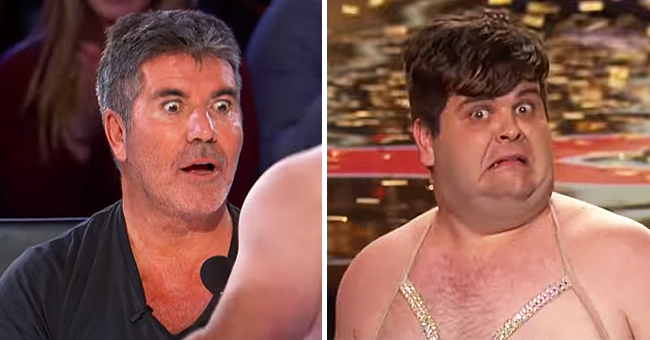 youtube.com/America's Got Talent
Ben Trigger Accidentally Hits the Golden Buzzer during a Wild Dance on the AGT Judges' Table
Ben Trigger during his audition on "America's Got Talent" accidentally hit the golden buzzer on the judges' table, leading to an exciting conclusion.
When Ben Trigger left his Brisbane, Australia home to the United States to audition on the "America's Got Talent" stage, his mission was to wow the judges, show his critics he can dance, and hopefully get to the next round.
Ben did this and more; when he got on the stage to perform, the Aussie who walked barefoot on stage, informed the judges that dancing has always been what he wanted to do, and the audition is his first since a knee injury seven years ago.
The 25-year-old Australian-born performer danced to "Boogie Wonderland" by Earth, Wind, and Fire, and midway through his performance, things got interesting.
Ben stripped down to bedazzled nipple tassels and walked down to the judges' table to give each of them a personal performance beginning with Simon Cowell.
The dancer ended up in between Julianne Hough and Gabrielle Union, and he accidentally set off the golden buzzer when he leaned on the table to end his performance.
The mistake led to a loud ovation from the audience, and the surprised Judges could not help but laugh at the turn of events. Howie Mendel, called it his favourite golden buzzer moment, while Union said,
"You came to slay, and I'm deceased."
Hough, whom the self-proclaimed "Gay fat dancer" hoped to impress said he had some serious moves, adding:
"Shake what your mama gave you."
Cowell, on his part, called the performance hilarious and funny; the talent show judge compared it with having what he called "The craziest" milkshake in the world, with everything mixed into it, and Ben at the top.
Although the mishap could have gone an entirely different way, the Australian travel agent whose life revolves around dancing, got a "Yes" from the judges and moved on to the next stage.
On the same day that Ben auditioned, Lamont Landers who came to sing Al Green's "Let's Stay Together," had a rocky start.
After Cowell called the song "A very safe wedding song," and asked him to take risks, Landers entered into a war of words with the Brit and had to go off stage and return later to perform.
During his second chance, the singer who took Cowell's advice performed "Dancing on My Own" by Robyn, and got four "Yeses" and a standing ovation from his critic.
Ben's golden buzzer didn't count, and Hough, who is the only judge left to use the buzzer, will get to use it another day, for a different contestant.
Please fill in your e-mail so we can share with you our top stories!