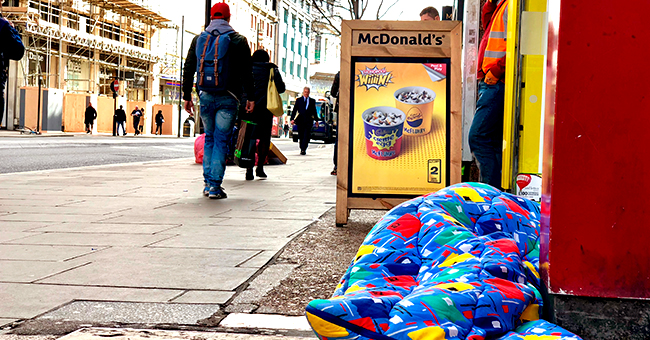 shutterstock
Community Helps Homeless Dad Stranger Shamed for Napping in McDonald's
After a woman took his photo sleeping between shifts in McDonald's, a homeless single dad is now being showered with donations from people around Fayette County who are trying to encourage him to keep working hard for his son.
An angry customer posted a short Facebook rant about seeing a man sleeping on one of the McDonald's booth, which she complained about to the employees. When the employee replied "oh yeah, we know, it's okay," the customer responded with "Not really, but whatever."
A Deeper Story
It turns out, that man was Simon Childs, a single father who has been raising a son on his own after losing his mother.
According to the 21-year-old, he's trying to turn his life back around and work hard to give his son a better future.
"Everything I do, I want to work for it. It kind of hurt to see my picture up there, you know? I thought it was something negative and nobody would care about it," he shared.
A Storm of Donations
However, he returned to work with piles of donations for him and his son, from supplies, clothes, coupons, and diapers.
In fact, the restaurant across the street even lent him a car to help him get to and from job interviews. He is now also living in decent hotels thanks to the post.
"I'm not homeless, not now, thanks to her. I didn't think the community would even care enough to do that, but they care."
Simon was interviewed by WSB-TV Atlanta, and the father was wearing bright orange Jordan shoes, also donated to him in just the right size.
A Positive Outcome
Meanwhile, the channel also spoke to the woman who made the post, and she clarified that she didn't intend to shame a particular person as she posted it in a private group.
Regardless of whether or not she intended to cause harm, Childs now has multiple opportunities lined up for him, and could possibly get a permanent place for him and his son to stay in soon.
account has been placed on his behalf, and he's received a total of $6736. That's more than the goal of $5000, and the donations just keep going!
Please fill in your e-mail so we can share with you our top stories!