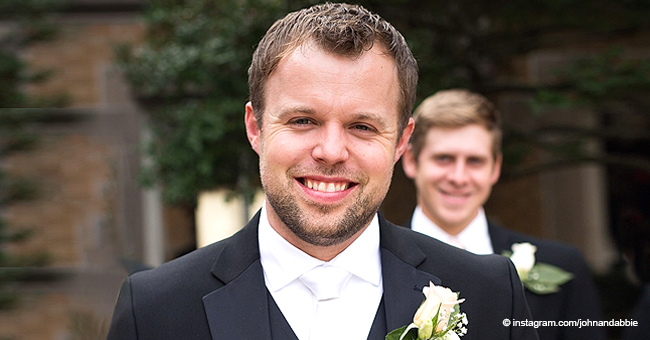 John David Duggar Road to Becoming the Role Model for His Siblings
John David Duggar is often referred to as the role model in the Duggar family. Though he is not technically the oldest, he seems to be the brother all his siblings can look up to.
In 2015 the Duggar family was rocked by controversy when "19 Kids & Counting" alum Josh Duggar was accused of molesting his siblings and cheating on his wife. The dynamics of the Duggar family immediately shifted.
Josh lost his standing as a role model and unofficial spokesman for his 18 younger siblings and his younger brother John David Duggar was forced to step up and take his place. He accepted his new responsibilities and has since gone above and beyond for his siblings.
As the go-to person for the children, John David has achieved many things. He built the Duggar kids a tree house and even assisted his siblings with career advice.
"It's a big load. It's a big weight upon me now," John David confessed in a TV special about his brother's scandal. "I've got a whole bunch of younger siblings looking up to me and I've got to be an example to them. Because whatever I am, that's what they want to be."
"We're moving on with our lives, and we're really looking forward to the future," he said in March 2016.
He embraced the new position in the Duggar household. However, it has also brought on an increased interest in his life from fans.
Courtship:
In fact, fan interest peaked in June 2018 after John-David announced his courtship with Abbie Burnett. John David was 28-years-old at the time.
"We really got connected then," said Burnette.
However, despite the way he grew up in the public eye, he remained a relatively private person and avoids putting his personal life in the spotlight. So it came as no surprise to die-hard fans that he had been secretly courting the Oklahoma woman for months before their courtship was announced.
According to sources, John David knew Burnett's family for years. Apparently, the pair did not see each other romantically until a religious gathering brought them together.
"John flew in for a church event here in Oklahoma where I'm from," Burnett said on the Duggar's family website. "We really got connected then." The rest, as they say, is history.
The Burnett family are quite similar to the Duggar's which could explain why the two clicked so well. Both families adhere to the teachings of the Advanced Training Institute (ATI) and have huge families with Abbie's parents, John and Cheryl, having a total of eight kids.
His prior commitment to bachelorhood:
However, the news of his courtship definitely shocked many fans. Especially since John David joked about staying single more than once.
"I'm just holding out. Bachelor 'til the rapture, I guess," he once said.
The rapture refers to a time when some Christians believe they will be spontaneously transported to heaven. He even joked that he was taking applications for a future wife at Jill Duggar and Derick Dillard's June 2014 wedding.
Engagement:
"We fell in love very quickly. And it's been a wonderful journey thus far and taking the next step to move onto a courtship," said John David about his courtship.
A month after announcing their courtship the pair got engaged. John David reportedly got down on one knee in an airplane hangar in front of a sign that read "Abbie, Will You Marry Me?" and his bride-to-be said yes.
He owned a home for years:
Considering the integral role John David plays in the Duggar family, fans used to question if the young man will ever leave his family home. John David owned his own home for years.
"Our son John David has got a job and a home. He's leasing that home out as rental income and putting the money aside … So he's definitely at that place in life where he's ready to be a husband and a provider and he would be open to courting a young lady if he felt she would be the one for him," revealed his mother in a blog post.
Wedding:
With a home already on his name and a girl on his arm, fans eagerly awaited a walk down the aisle for John David. Their prayers were answered in November 2018, when John David Duggar, 28, married Abbie Burnett, 26, in Arkansas.
"We are so excited to be married! It was a beautiful moment and we so appreciate our friends and family for sharing this day with us," the couple said. "Most of all we are thankful to Christ for bringing us together. This is going to be an amazing journey!"
Please fill in your e-mail so we can share with you our top stories!