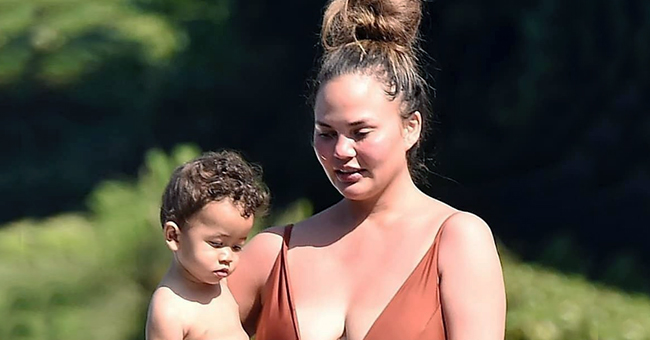 instagram.com/celebs_in_touch
Chrissy Teigen Spotted Enjoying a Family Vacation on a Yacht in Italy

Chrissy Teigen stunned in a plunging orange bath suit while enjoying a vacation with her husband and their two children.
The Sports Illustrated model was in Portofino, Italy with daughter Luna, three, and son Miles, 14 months, over the weekend. Grammy-winning singer John Legend also joined his family in a shirtless display under the hot sun.
The family was photographed in a yacht where they spent a lot of time in the hot tub. Teigen, 33, entertained Miles with some fun helicopter moves at one point.
Legend, 40, also had his share of play with his adorable son. For some reason, Luna was not spotted splashing around in the tub with the rest of the family.
However, her mom Teigen provided a captivating display with a sunburnt orange one-piece that hugged her curvy figure. Her chest, in particular, was really out there thanks to a neckline design that came down to her belly button.
Teigen wore her brown hair in a high bun and was barefaced throughout her time on the seas. Legend wore just colorful striped shorts. The singer shared one picture of the fun day to his Instagram.
He posted an incredibly sweet photo of little Miles sitting on the yacht wearing a big smile as he raised his arms high. "My happy boy in Portofino," Legend captioned it.
Meanwhile, Teigen shared a post to her social media which revealed that little Luna indeed spent time enjoying the hot tub at some point. She also posted the same shot her husband has up of Miles.
Another shot of the toddler showed him leaning over in front of his mother's laptop. Teigen jokingly informed her audience that "if you email me anytime in the next 7 days this is who is replying."
A previous shot saw Legend and Teigen walking in the streets wearing matching yellow outfits. Luna sat in her mother's arms. "In Portofino!!" Teigen announced. Miles was not around that time.
It was just a month ago that the proud parents celebrated their son's first birthday by both sharing tributes on social media. The Grammy singer posted a bibbed Miles and said simply, "Our beautiful boy is one today. We love you, Miles."
As for Teigen, she posted a more animated shot of her son in which he sat at his chair and covered his ears. Speaking as if she were Miles, she wrote, "I can't believe I'm one." She wished him a Happy Birthday at the end.
Please fill in your e-mail so we can share with you our top stories!