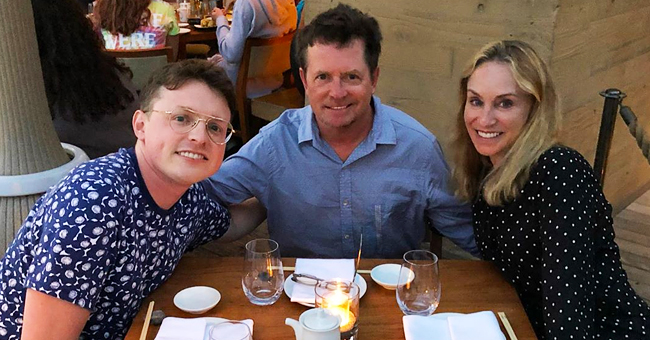 instagram.com/tracy.pollan
Michael J Fox and Tracey Pollan Have Dinner with Grownup Son Sam (Photo)
Micahel J Fox shared a dinner outing with his wife and 30-year-old son who looks a lot like the famous actor.
Fox's wife Tracy Pollan posted the sweet photo of the three of them as they prepared to have dinner at a Nobu restaurant in Malibu, California over the weekend.
"Dinner with the boys," she captioned the shot. The comment section had some interesting insights into Fox and his son Sam. The post is found below.
Sam is Michael's only son and he's chosen not to follow in the "Back to the Future" actor's footsteps. Still, the resemblance between the father and son pair is undeniable.
At least one person pointed out their similar features under the picture by saying, "Sam is a mini Mike!!!" The longstanding couple also has three beautiful daughters.

Photo: Instagram/ Tracy Pollan
Fox and Pollan met on the set of the 80s comedy show "Family Ties." They've been married since 1988, surviving several decades longer than is typical of a Hollywood couple.
Unfortunately, Fox has been battling Parkinson's disease for a long time as well. In the early 90s, he was diagnosed with the disease which affects the nervous system.
However, the actor hasn't let it slow him down too much. In June, he even opted to get his first tattoo and shared the resulting image with fans via Instagram. He chose an animal to put on his upper forearm.
A picture of a sea turtle now graces the Emmy winner's forearm. "Long story," Fox said in his caption. The shop owner later told Inked Magazine that the turtle came at a time of significant transformation for Fox.
The actor is lucky that he has a supportive wife as he continues to endure Parkinson's. Back in April, the two shared exactly what keeps them happy and together.
Speaking to Jimmy Fallon on "The Tonight Show," Fox said he makes sure his bedroom life stays "dirty" while he keeps "the fights clean." He also discussed his contribution to Parkinson's research.
Last year, Fox underwent a surgery that inhibited his mobility but was necessary for a recurring spinal problem. In March this year, he gave an update and revealed that tons of physical therapy was needed just to walk again.
An admittedly "cocky" Fox was so eager to go back to normal that he ignored assistive items like a cane and ended up shattering his humerus. He confessed that it left him in a depressive state of mind.
Thankfully, Fox is not looking to stay down. He said that he's taking things step by step as he continues the process of recovery. We wish him and his family all the best.
Please fill in your e-mail so we can share with you our top stories!