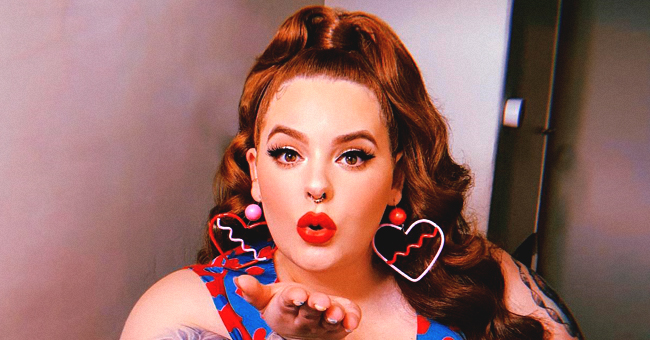 instagram.com/tessholliday
Plus-Size Model Tess Holliday Comes out as Pansexual

Tess Holliday just came out as pansexual to the world in a beach photoshoot interview done at the end of the LGBT Pride Month.
The 33-year-old plus-size model spoke to Nylon magazine for their July issue which featured Holliday on the cover. She opened with the funny story of how she finally realized her sexuality.
Funny story from Holliday
While on vacation in Mexico, a man came up to her and asked, "Are you bi?" A pleasantly surprised Holliday said, "Thank you so much for asking," then went right into it.
She related what she said:
"I've been thinking a lot about my relationship to my own queerness, and I think the word pansexual speaks to me more than bi does."
When she was done, the man told Holliday that he actually was asking her if she was buying anything — not if she was a bisexual. Apparently, four of the five employees from Nylon magazine working with Holliday were queer.
She is living her true self
So she was happy to tell them that she's one of them. Holliday, who has two children, said that although she's married, she is better able to connect with others now that she's more aware of her sexuality.
She explained:
"I feel like a lot of stuff in my life now makes sense. A lot of the things that I felt when I was younger make sense. A lot of the relationships that I had make sense."
And is willing to explore
Holliday has been married to husband Nick Holliday since 2015, but when asked if she would enter a romantic relationship with another woman she answered with confidence, "Yeah!"
She then inserted her disclaimer; "I might not know, like, what to do. But I feel like I'd figure it out." For Holliday, it's just a relief to be able to identify as what she feels is true to her, and not have to pretend anymore.
But opposition is fierce
The controversial model also spoke about her abortion at a time when she was married and financially capable of caring for it. "Why did I feel so much shame for that?" she wondered.
Holliday is also someone who works out, including doing exercise for the shoot which she knew would be difficult. She explained that working out is just another thing she gets backlash.
She asked, "Why is it controversial to talk about the fact that fat people deserve to take up space and deserve to be sexy?" This and other things make her angry, but she's not afraid to speak her mind.
She's accepting of other's choices
Seemingly in contradiction to her message of body acceptance, Holliday unapologetically shared that she cosigns plastic surgery. She took to Instagram in late May where she had just gotten "a little non surgical refresh."
Throughout the caption, Holliday explained that contrary to the general belief that plastic surgery "can't be body positive," she believes that it can because it's up to you to present your body "how you wish."
However, dishonesty about plastic surgery is what makes it not body positive because then your new look will become "another unattainable beauty standard," something the model is strongly against.
And her influence is far-reaching
Holliday paved the way for many other plus-size beauty models to enter the spotlight. For example, Leah Stanley of New York rose to fame last year as a model and fashion blogger who confidently flaunts her curves.
Stanley, 29, said that she's also been on the receiving end of negative comments about her health and is regularly accused of using her platform to promote a poor lifestyle.
Ultimately, she's all about "love and respect" and, contrary to what many say, she focuses on being a good influence on others. Like many other plus-size models, she just wants "to break the standards."
Please fill in your e-mail so we can share with you our top stories!