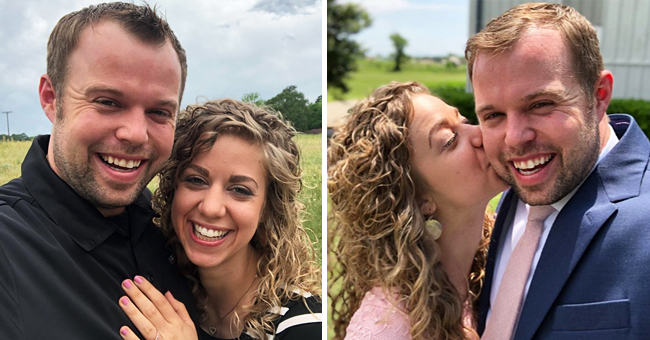 instagram.com/johnandabbie
John Duggar and Abbie's Social Media Hiatus Worried Fans

"Counting On" stars John and Abbie Duggar's absence on social media for two months seems too much for their fans.
The couple has always kept their fans updated on their lives, so their social media hiatus has sparked worries from their followers.
Some fans think that the couple may soon break their silence with a pregnancy announcement.
"Hey, we're all concerned for y'all, hope all is well and we'll see you soon," one fan wrote.
Another fan wrote, "Abby girl! What happen? Wheres you and john these days (sic)?"
Speculations have emerged as to the reason behind their unusual silence.
IS A PREGNANCY ANNOUNCEMENT IMPENDING?
The couple, who tied the knot in November 2018, have yet to announce a pregnancy. Some fans think that the couple may soon break their silence with a pregnancy announcement.
They think that the couple may be busy dealing with pregnancy symptoms, especially when Jessa Seewald made an intriguing post after their grandmother passed away last month.
Jessa wrote of their late grandmother on Instagram:
"She was so excited about the many new great-grandbabies due this coming fall and winter, and it never got old for her."
One fan commented on the couple's last post:
"Are you waiting to announce something???"
WILD FAN THEORIES
Speculations from fans not only haunt John and Abbie Duggar. Recently, Joy Duggar and Austin Forsyth were also the subjects of wild fan theories relating to their courtship story.
On Reddit, "Counting On" fans shared their suspicions on Austin and Joy's courtship story.
"According to them, Joy always had a huge crush on Austin. But nobody ever told Austin that. Just one day out of the blue Austin woke up and thought 'I'll marry Joy Anna Duggar.' This... sounds... fabricated. Or the action of an invisible man god in the sky I guess," one fan wrote.
Another fan's theory goes, "I suspect that's like a candy-coated version of the truth. Like maybe Joy always had a crush on Austin and he didn't realize it (sometimes people are really daft about that- especially teenagers), but because she liked him she was always friendly to him and so she wasn't really a background player to him, and then she got older and he realized 'oh Joy's really cute and nice...' and then it all kind of came together from there."
Please fill in your e-mail so we can share with you our top stories!