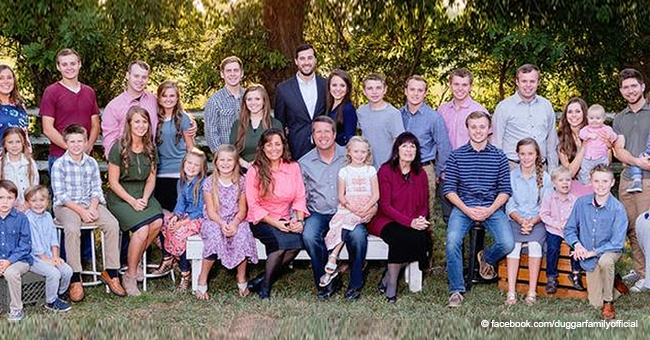 facebook.com/duggarfamilyofficial
A Look into the Duggar Family's Obsession with Pickles
The Duggars are known for loving just a handful of things. Jesus, skirts that go past their knees, and, strangely, pickles. Fans of "19 Kids and Counting" and "Counting On" know that the family eats pickles at every opportunity.
The Duggars love for pickles sometimes borders on obsession. The strange side dish makes an appearance during their shows and even on their social media feeds.
Fans are often left wondering why exactly they love the condiment so much. Why are the Duggars obsessed with pickles?
When did the Pickle craze start?
Since the Duggars are extremely religious, many fans assume their love for pickles comes from the bible. Especially since the Bible mentions pickles twice.
However, Jessa Seewald set the record straight. She thinks the family's love for the snack actually started with Michelle's first pregnancy.
"The Duggars love pickles. I think it probably started that when my mom is pregnant she craves pickles, that is the one thing. Every time we see her eating pickles we say 'Are you pregnant?'" Jessa revealed in 2016 on an episode of Counting On.
Pickle induction into the family:
To add to the pickle craze in their family, Joy-Anna revealed that there is a formal pickle induction ceremony. The entire family gets involved.
"Any time a family member tries a pickle for the first time, we always go around and take videos and pictures and everyone comes around to watch their facial expression," Joy-Anna said.
Duggar children personalize their pickle mixes:
According to Michelle Duggar, each of the Duggars personalize their pickles for Christmas. Each child gets their favorite flavor.
"Almost all of us like pickles, but each one likes a different kind," Michelle said. "Same with the Pringles and the beef jerky. Christmas is the one time of year when every child gets their favorite flavor of each treat."
Pickles are even added to their pizza
In a People interview in 2015, it was revealed that the Duggars have a very specific set of toppings for their pizza. Michelle revealed that in order to feed their giant brood they often make pizza.
The pizzas are topped with canned tomato sauce, shredded mozzarella cheese, pepperoni, sausage, chopped tomatoes and most importantly, pickle slices.
Jason Duggar has his own recipe
The obsession seemed to reach new levels when even Jason Duggar, who is only 19 now, posted his own recipe for the snack on the Duggar Family blog in 2015. He was only 15 years old at the time.
Their love for pickles inspired the name of a Facebook page
"Life is not all pickles and hairspray" is apparently a line Jim Bob said in an early episode of "19 kids and Counting." A Duggar critic picked up on the line and created a Facebook page with the same name.
The page, which was founded in 2012, claims it aims to discuss the Duggars, Evangelicals & politics. It has become so popular on the social media site that fans of the Duggars have started a Reddit thread discussing the page.
"Who is this mysterious Pickles? How does "and hairspray" relate to the name? Is it a She? Or a He? Who is the person behind the gossipy keyboard?," asked one fan.
"Life is not all pickles and hairspray" is a quote from a special years ago, when the Duggars went to Japan. It was in regards to Jim Bob engaging in a duel for defending his daughters from being married off to one of the warriors he was dueling with. It was a silly role play and was said by a narrator. It was pretty funny at the time. I guess Pickles thought so too. That's just her nickname derived from the quote."
Please fill in your e-mail so we can share with you our top stories!