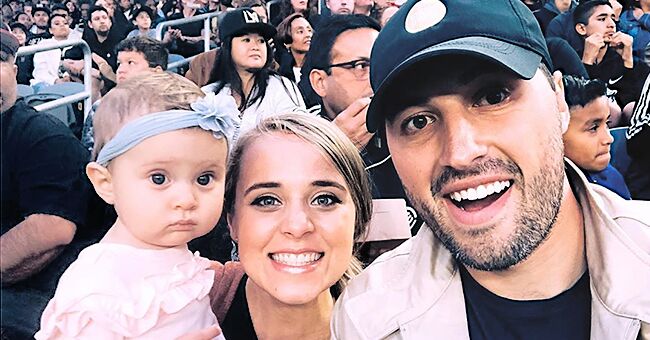 instagram.com/jingervuolo
Jinger Duggar Spotted in Los Angeles on a Family Walk
Jinger Duggar was recently spotted flashing a new look during her trip to Los Angeles with husband Jeremy Vuolo and their nearly one-year-old daughter Felicity.
Jinger, 25, and Jeremy, 31, moved from Arkansas to Laredo, Texas, where Jeremy was a minister and then recently hopping to the West Coast, as reported by Daily Mail.
"You need to wear that (color) more often, it looks stunning on you!
Flaunting her blonde hair, Jinger was photographed with her family at a mega church in Sun Valley, California, a suburb of Los Angeles.
A source said, "They were running a bit late and headed into the Pastor's office for a pre-church meeting. When they came out Jeremy chatted up another parishioner before walking upstairs to a Sunday school class with his wife."
"She had a bit of a tan and you could see some spots showing where she had dyed her hair from dark brown to blonde."
Jinger made a great deal of waves when she changed the color of her hair from brown to blonde.
"The blonde hair is (OK hand sign emoji) And that sweet baby girl is always smiling and so happy!!!!," one fan commented on the recent photo she shared on Instagram.
"I absolutely love Gingers hair blonde. So pretty. Which I could pull it off," added another.
"Such a cute picture! Love the hair," another person commented.
Someone else wrote: "You need to wear that (color) more often, it looks stunning on you!"
The television personality, who is known for her TV appearances on TLC reality shows "19 Kids and Counting and Counting On," is the sixth child born to Jim Bob and Michelle Duggar.
In 2015, she met former professional athlete Jeremy, who is currently enrolled in a Master's program at Grace Community Church, while on a mission trip to Central America.
Jinger and Jeremy declared that they were in a courtship in June 2016. After one month, the couple was engaged, and they tied the knot in November 2016.
The beloved pair welcomed their first child, daughter Felicity, in July 2018. The little girl is the twelfth grandchild on the Duggar side and the first grandchild on the Vuolo side.
Before Felicity's birth, Jinger and Jeremy had kept their fans informed about her pregnancy by sharing pictures of their holidays highlighting Jinger's bump.
Please fill in your e-mail so we can share with you our top stories!