Meghan Markle Mom-Shamed on Social Media for the Way She Holds Archie at His First Outing
The Duchess of Sussex has come under the reeks of angry fans after pictures of her outing with her son surfaced on the internet! 
The new mother recently stepped out with little Archie Harrison in style as she adorned a green colored outfit, paired with sunglasses. However, the media was not having any of it as they noticed how Meghan Markle held Archie in her embrace.
The American actress turned royal carried her son warmly, and planted a kiss on his head while she strutted past the shutters. Instagram swirled with various comments from people saying she carried Archie in the most inappropriate way. 
From the comments, the 37-year-old mom was shamed as some voiced that she didn't even dress the infant properly.
Words like, "She should have put a hat and socks on the poor baby!!. She is not able to hold the baby," " Meghan looks like she's about to drop him," and "Meghan doesn't know how to carry her own baby, such a shame," flooded the images that were uploaded.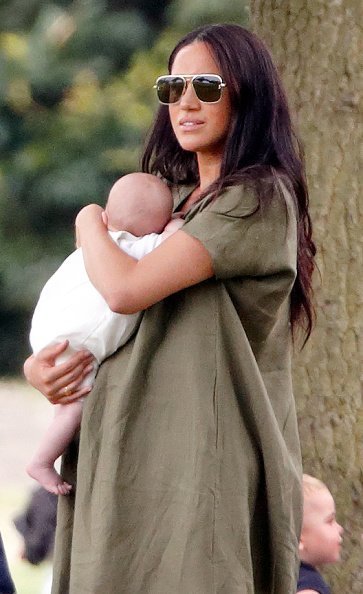 These comments were however, not well received by Meghan's followers who thought she was only a first-time mom, and that her offense isn't so grave that it can't be pardoned. 
The Royals were however not bothered by the vile comments as they were on their way out to have fun at the Billingbear Polo club in Wokingham. 
The two brothers, Prince Harry and Prince Williams competed against each other to mark the King Royal Charity Polo Day, and their families came to cheer them on. While Harry had Meghan and Archie, William had Kate Middleton and his three children.
Both the Duchess of  Cambridge, and the Duchess of Sussex appeared side by side at the event, and this marked a unique joint appearance since the duo are mostly seen in royal ceremonies attended by the whole royals!
This is the first event Archie will be attending, but as for his mum who has been on maternity leave after his birth, she has been out a couple of times. 
Meghan was seen at Wimbledon, where she went to support her buddy, Serena Williams during her tennis match.
The new mum is stopping at nothing to look her best! An insider opened up to People on how dedicated the former actress is to her health and her glow! This is not something that is associated with the aftermath of baby delivery; the mother of one has been disciplined in terms of what she consumes and applies to her skin.
Archie's christening was celebrated recently, with a close-knit circle, and People confirms that both parents are really excited and having the time of their lives! 
So whether or not the media feels a certain type of way about Meghan's care for her chap, it is evident that the new parents love little Archie!