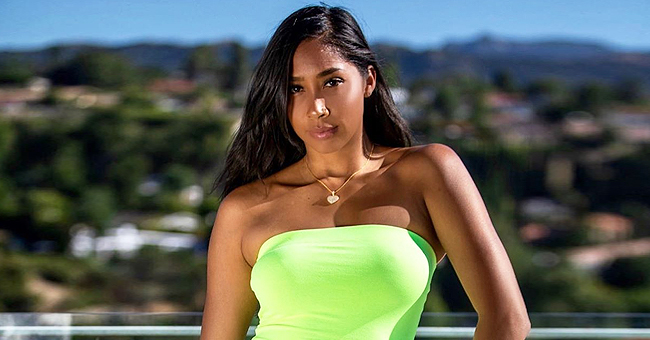 instagram.com/aprylsjones
Apryl Jones May Be Pregnant with Lil Fizz's Child after Posing in L&HH Trailer

Apryl Jones might be pregnant with Lil Fizz's child after a recent "L&HH" trailer showed her with a stomach bump that was highlighted thanks to her shiny silk dress.
People are now wondering whether or not Apryl Jones is pregnant with her third child following a promotional trailer for "Love and Hip Hop" that showed her with a bump in her stomach.
A Sudden Fling
She and Lil Fizz have been rumored to be dating for quite a while now, especially since they both don't seem to hide it in their Instagram stories and comments. Now, people are waiting for confirmation as to whether or not their fling has brought about something a lot more delicate: a child.
To add to these pregnancy rumors, it seems Fizz's baby mama, Moniece Slaughter, has also been throwing shade towards Apryl on social media, which sparks even more rumors about the pregnancy. She's been very vocal about Lil Fizz's alleged fling to Apryl Jones, and she wasn't about to stop now.
Adding Fuel to the Fire
In a now-private post, Moniece responded to a comment from Instagram user @sosay.adonis, who asked: "What in the bump bump bump is [going] on here?"
Moniece responded with: "We're about to find out in about 6mo or so."
Apryl is already a mother of two, sharing her first two kids with ex-boyfriend Omarion. According to the rumored mother-to-be, her first two kids are "the greatest blessings" in her life. Although it's difficult to raise two toddlers, she says it's worth it.
Thoughts on her children
The greatest blessings in my life....yeah it's hard...probably the hardest responsibility ever but every second, min, hour, day, year, of my life is worth it for these two. To all the Moms and Dads out there continue to always be great for your kids. They need us more than ever especially in this time we are living in. It's our duty to make them into decent human beings, and show them that love is the only option."
Now that she's rumored to be a mom yet again, she'll have to prepare herself for another challenge altogether, and that's working while raising three growing children.
Please fill in your e-mail so we can share with you our top stories!