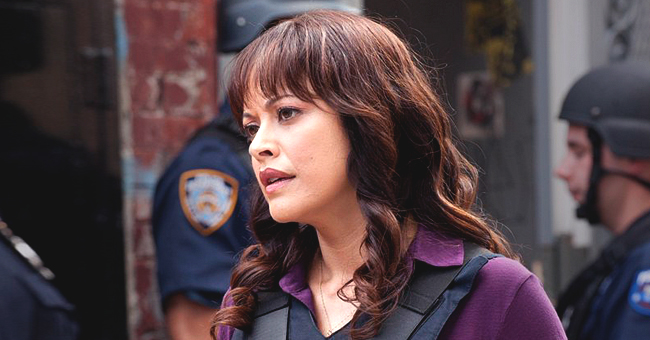 twitter.com/iontv
Marisa Ramirez of 'Blue Bloods' Posts New Pic of 3-Year-Old Daughter Violet Sitting on a Lego Motorcycle

Marisa Ramirez shared a picture of her adorable three-year-old daughter violet, striking an adorable biker pose on a lego motorcycle.
The "Blue Bloods" actress captioned the post to officially announce the commencement of filming for the tenth episode of the movie.
A MINI RAMIREZ
Marisa Ramirez took to Instagram to share a photo of her cute little angel, Violet Ramirez. The three-year-old is a reflection of confidence and charisma as she sat on a white and blue lego bike, gripping the handles in style.
Her feet which she balanced like a pro on either side of the motorcycle were clad in brightly colored footwear that complimented her pink flowered dress.
To crown her look, the beautiful daughter of the star actress showed off a charming smile, typical of a supermodel. The little one is surely grooming up to follow in the steps of model mom, who must be proud of her daughter for pulling off such a professional pose at just age three.
BLUE BLOODS COMING SOON
As striking as the budding model was in the pic, one could not help but notice the caption below it. The mother of one revealed that the long-awaited season 10 of "Blue Bloods" was in the filming process, and this left her fans in a haze as they took to the comment section to express their excitement over the good news.
The adorable upload was captioned:
"Back to work @bluebloods_cbs. Missing my violet! New cast member? Mini Baez? Let's do this"
LITTLE VIOLET, A NEW CAST?
As fictional Detective Baez promises to come back on screen soon, fans of the series couldn't help but wonder if the actress's post implied that her daughter would be featured in the movie as a "Mini Baez."
One of the comments read:
"Baez could adopt a little one, and violet could play the part!! She's so cute."
The last of the lego bike princess's beauty and uncanny resemblance to her mom is yet to be heard, and sadly, neither is her dad's identity.
IT'S A GIRL
The first online appearance of Violet's photo came only a few days after her birth in May 2016 when the 41-year-old officially announced the arrival of her new baby via twitter.
She posted a picture of sleeping baby Violet and gushed about how so in love they were. The NAACP nominee, however, has been reluctant to reveal the identity of the child's father, stating only that the pregnancy was a total surprise.
Please fill in your e-mail so we can share with you our top stories!