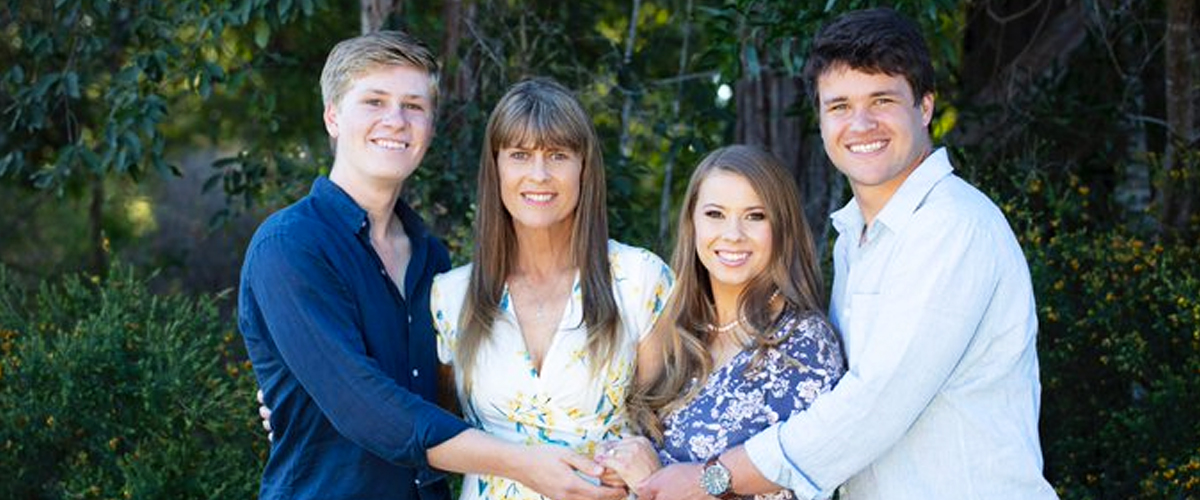 twitter.com/TerriIrwin
Terri Irwin Congratulates Daughter Bindi Irwin on Her Engagement with Chandler Powell
Bindi Irwin and her boyfriend have been dating for almost 6 years and he finally asked her to marry him. Now her mother has taken to social media to share her excitement about the engagement.
Terri Irwin, 55, is thrilled that her daughter, Bindi Irwin, 21, is engaged! Bindi's boyfriend Chandler Powell, 22, proposed to her on her 21st birthday on Wednesday and she said "Yes."
Taking to Twitter on Wednesday, the former star of Crocodile Hunter congratulated her daughter writing:
"Best day ever! Chandler asked and beautiful @BindiIrwin said yes. I am so very happy, and I know Steve would be too. Congratulations!!"
Steve Irwin was Terri's late husband and Bindi's father. In her post, Terri included a family photo of herself, daughter, the fiancé, and her son Robert Irwin, showing off the bride's new ring.
On the same day her mother congratulated her, Bindi confirmed the news via Twitter. She posted two images of herself and Powell celebrating their engagement.
One picture showed the conservationist sharing a warm hug with her fiancé. The second photo gave fans a close-up view at her gorgeous engagement ring.
Bindi captioned the post:
"On my birthday I said 'yes' & 'forever' to the love of my life. Chandler, close to 6 years ago I fell in love with you & every day since has been a whirlwind of adventure & true happiness. Here's to a lifetime of friendship, purpose & unconditional love."
Speaking during an interview, Terri's daughter revealed that she was "overjoyed" to share the news of their engagement. She said the proposal made her birthday "the most special" one.
Bindi went on to call Powell her "soulmate" and shared that she couldn't "wait to spend the rest" of her life with him. She also described him as a character in a fairytale calling him her "happily ever after."
For his part, Powell said the engagement was "the most perfect and beautiful day of my life." The family had hosted a birthday celebration for Bindi at Australia Zoo where they had a photoshoot.
However, "just before" the shoot started Powell took his girlfriend "to a special part of Australia Zoo" and proposed to her. Having enjoyed the past years they've been together, Bindi's fiancé revealed that he looked "forward to a lifetime of magical moments to come."
The couple met in November 2013 while Powell was visiting Australia from Florida for a professional wakeboarding competition and decided to stop by the Australia Zoo. There he met the young conservationist where she and her family lives and works.
Robert also took to Instagram to honor the newly engaged couple. He shared that he was "beyond happy" for them and that they were "true soulmates."
Bindi's younger brother also added that the pair were "completely perfect for each other" before sharing his love and congratulating them. He also secretly captured the proposal on camera.
Please fill in your e-mail so we can share with you our top stories!