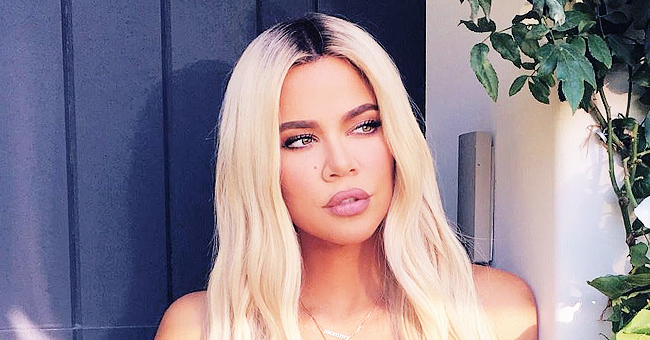 instagram.com/khloekardashian
Khloé Kardashian Shares Photo of Daughter True Posing like a Model in a White Dress on the Bench

Khloé Kardashian's daughter, True, looks like she's on her way to being a great model if her mother's recent post is anything to go by. The one-year-old posed for a photo wearing a white dress and looking very cute.
Reality television star, Khloé Kardashian tweeted a picture of her beautiful daughter looking gorgeous in a white dress while sitting on a white bench.
With the picture, the little tot showed that she has all it takes to be a top model, and fans who replied to the tweet couldn't agree less.
KHLOÉ KARDASHIAN'S TWEET
The "Keeping Up With the Kardashians" star tweeted a picture of her daughter wearing a white gown, and sitting on a white bench, with the poise and maturity of a professional model.
True wore a beautiful smile and looked at ease even as she stared at the camera. Her mother couldn't hide her excitement in her tweet. In her tweet caption, the star explained that she couldn't handle it anymore, as she was obsessed.
She went on to say that baby True has the "smile down," before warning Kendall Jenner that she had a rival. Khloé ended her tweet by giving props to Patty Othon, the photographer who took the classic shot.
Fans of the reality TV star who replied to the tweet couldn't help but marvel at how photogenic the little model is. Others told her that she didn't have to apologize for posting many pictures of her child, as it is very much understandable; given that True is such an adorable girl.
KHLOÉ WON'T PRESSURE TRUE INTO MODELLING
Though the reality TV star joked that her daughter is a future model, she explained that she cared more for her confidence, and won't be pressurizing her to do something she wasn't comfortable with.
Though it is too early to say what baby True would choose to do in the future, it wouldn't be a bad idea to bet on her going into modeling.
TRUE IS HER MOTHER'S LIGHT
The 35-year-old socialite has been through some difficult times in recent past. First off, she officially divorced the love of her life, Lamar Odom, whose addiction, cheating, and poor decision making became too much to bear.
She was in and out of love after that, before meeting NBA star, Tristan Thompson, with whom she began a relationship. A relationship that led to the birth of baby True, while still dating, Khloé discovered that Tristan was cheating on her with another woman.
After settling things with him and getting things back to normal, Tristan cheated again, this time with Kylie Jenner's best friend, Jordyn Woods.
Despite all the setbacks and failed relationships she has had, the reality star found light in her daughter. She holds her so dear and loves her more than anyone else in the world.
Please fill in your e-mail so we can share with you our top stories!