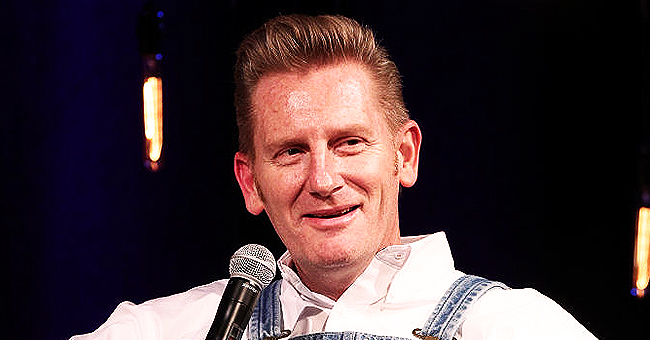 Getty Images
Rory Feek & Daughter Indiana Are All Smiles in Matching Beige Overalls (Photos)
Country singer, Rory Feek and his adorable five-year-old daughter rock identical Beige overalls in new social media photos. The duo is beaming with excitement as they enjoy a father-daughter post-cruise reunion.
Inspirational blogger, singer, and owner of the emotional blog, "This Life I Live," shared pictures from his amazing moments with his daughter after a stressful night of cruising.
The singer's post on social media easily took over the media as it reflected his love for his adorable daughter, who has special needs.
THE CAPTIVATING POST
One of the posts featured the pair, smiling at the camera, and wearing matching overalls that left them looking like the best father-daughter pair ever.
Rory Feek was dressed in a blue long-sleeved shirt, and a khaki-colored beige overall while five-year-old Indiana adorned a similar beige outfit, over a white blouse and fierce cowboy boots.
Both struck a similar pose, with hands pocketed, smile in place and standing at ease.
In another picture, both were seated on a pavement, with little Indy showing off a beautiful wide smile, while the single father stared at her affectionately.
The blogger shared the pictures with the caption:
"Someone was glad to see her papa get home from the cruise last night."
FATHER OF THE CENTURY
The awe-inspiring post was not only heartwarming, but showed how the super-dad has been able to blend his social life and career with his special daughter, as a single dad, and still made up time to enjoy some fun activities.
Rory lost his singer wife, and mother of his five-year-old in 2016, when Indy was only two years old. Since then, the inspiring father has been both a dad and mom to his little princess, with huge help from Hopie and Heidi, his daughters from a former relationship.
"THIS LIFE I LIVE"
In a 2018 interview, the 53-year-old revealed that even in her absence, his late wife was also helpful in sustaining his relationship with Indy and making him able to face the travails of a single dad.
He explained how Joey sacrificed her desire to always spend time with their new baby during her last days on earth, to foster a stronger bond between the country singer and the then two-year-old.
Accounts of late Joey's struggle with cervical cancer before her death were detailed in Rory's blog, "This Life I Live," where he explained the most tragic moments of his life.
JOEY AND RORY WENT THROUGH HARD TIMES TOGETHER
Joey Feek got diagnosed with cancer in 2014, shortly after the birth of her only child. It was a dark period for the country couple as the sad revelation came barely months after discovering that their new baby was born with Down Syndrome and had to live with it her whole life.
Knowing that their daughter suffered from a condition that would deny her a normal childhood was difficult enough for them, but they were determined to make life as smooth as possible for Indy.
The singer stated that he promised his late wife to give their little girl a normal life and the best education.
True to his promise, the country musician has built a school on his farm for his five-year-old, where she attends along with other kids from the neighborhood. This, he said, was a better option than getting her homeschooled as was the initial plan.
The musician's love for his toddler is unrivaled, and indeed, this single dad is the best dad of all time, if nothing else, for writing a storybook titled "The Horse Says Neigh!", specially dedicated to his daughter, whose love for farms knows no bound.
Please fill in your e-mail so we can share with you our top stories!