10 Sweet Malia and Sasha Obama Sibling Moments That Sisters Can Relate To
We saw Malia and Sasha Obama on Election Night 2008 when their lives forever changed. We've seen them grow into lovely young ladies. Here are 10 times the Obama girls showed that they're basically you and your sister.
When Barack Obama won the presidential election in 2008, his daughters Malia and Sasha were just 10 and 7. For the next 8 years, we got to witness these young girls mature into beautiful young women, unique in their mannerisms but identical in their love for each other and their parents.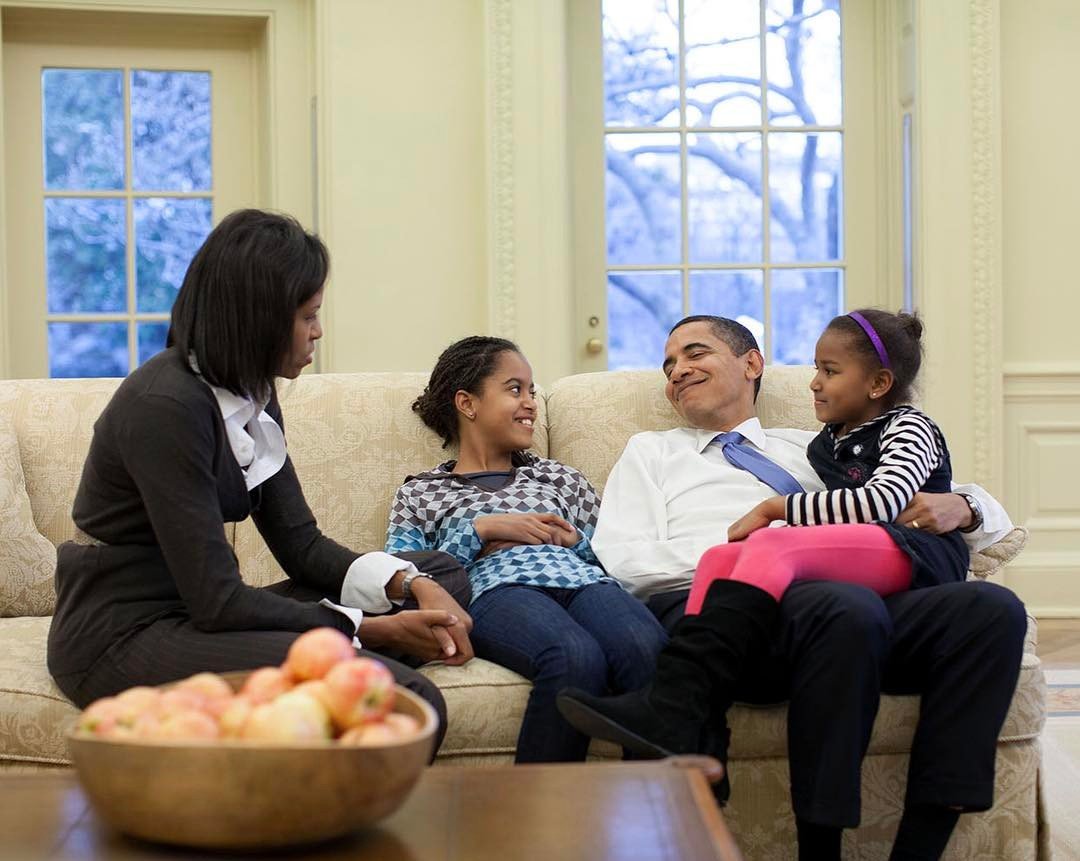 During that time, not once did we see the First Daughters in front of a microphone giving an interview or making remarks. This was a very intentional move on their parents' part. Though they are public figures, Barack and Michelle kept their childhood pretty private, and as normal as it could possibly be in the White House.
Like Malia learning how to drive when she was 16 (the Secret Service taught her because her parents couldn't for security reasons). And having to make their own beds and clean their own rooms. "They have to learn these things," Michelle once told ABC News.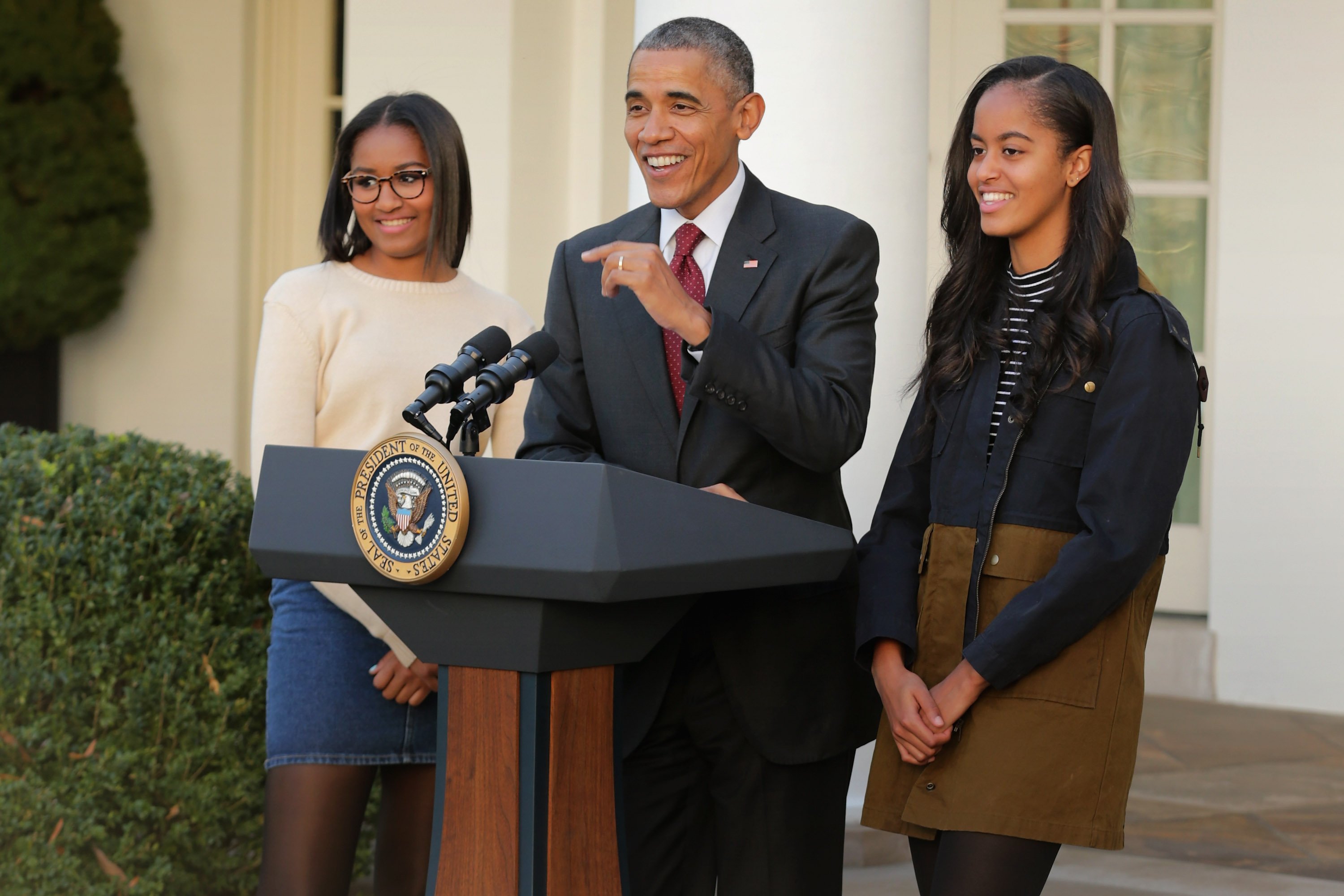 SISTER, SISTER!
The girls are now back to life in the general public and are living their best lives. Malia is in Harvard and is rumored to be dating a strapping British lad named Rory Farquharson. This year Sasha attended her senior prom and graduated from the exclusive Sidwell Friends School in Washington, D.C.
But we miss them so much! Take a walk down memory lane with us and check out these all-time cute photos of Malia and Sasha that prove they're basically you and your sister.
I am ever so thankful for Malia Obama's #sideeye + smirk. #goals pic.twitter.com/Ty9opfdUUv

— Janet Mock (@janetmock) November 27, 2014
1. When You Have To Endure Dad's Lecture
Even though Barack was probably lecturing the nation, Malia and Sasha still had to be there for it. And they both look understandably bored and couldn't wait for it to be over.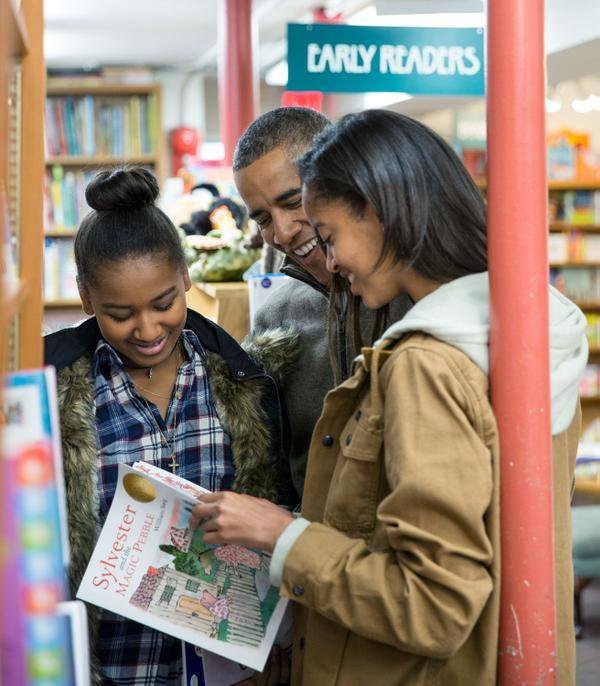 2. When You Flip Through The Pages of A Book Before You Buy It
Okay, so Malia and Sasha were probably in a library and checking out this book with their dad. But haven't you ever skimmed the pages of a book you are thinking of buying so that you get a feel of it? We thought so!
President Obama, Malia and Sasha Obama watch the first lady speak at #DNC2012. Pic by Pete Souza. http://t.co/3sNS18MP pic.twitter.com/rXyZsaL5

— The Washington Post (@washingtonpost) September 5, 2012
3. When You Take the Time to Hang Out With Dad and Catch Up on Some TV
While Barack and his girls were not catching up on "How I Met Your Mother" but were actually watching Michelle give her speech at the Democratic National Convention, it's good to see that the girls enjoy spending time with their dad.
#MaliaObama is doing a #gapyear before @Harvard. Share your story with @HashtagVOA @UnCollege @GlobalCitizenYr pic.twitter.com/k5NIDB36zd

— HashtagVOA (@HashtagVOA) May 8, 2016
4. When Your Sister Photobombs the Photo You're Trying To Take
Sasha was busy trying to get a pic of her parents smooching but Malia was like, "Nah!"
Happy Birthday, Sasha Obama! 🎉http://t.co/OiGslnUK5D pic.twitter.com/xRsymgneMQ

— BuzzFeed (@BuzzFeed) June 10, 2015
5. When You and Your Sister Take a Selfie and Make a Duck Face (Naturally)
Because when you're at an event that you can't leave, what else is there to do?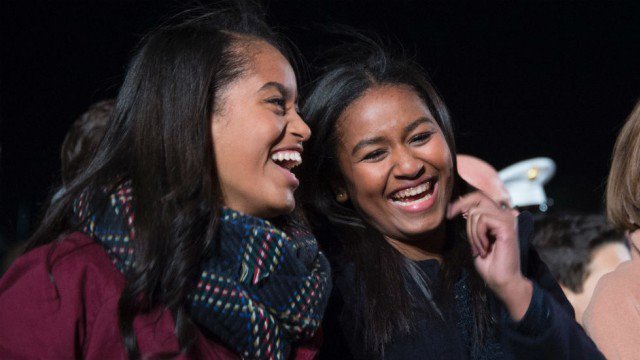 6. When You Share A Joke
We don't know what made these two laugh so hard at the National Christmas Tree Lighting Ceremony in 2015, but we're sure it was that much funnier because it was shared with a sister.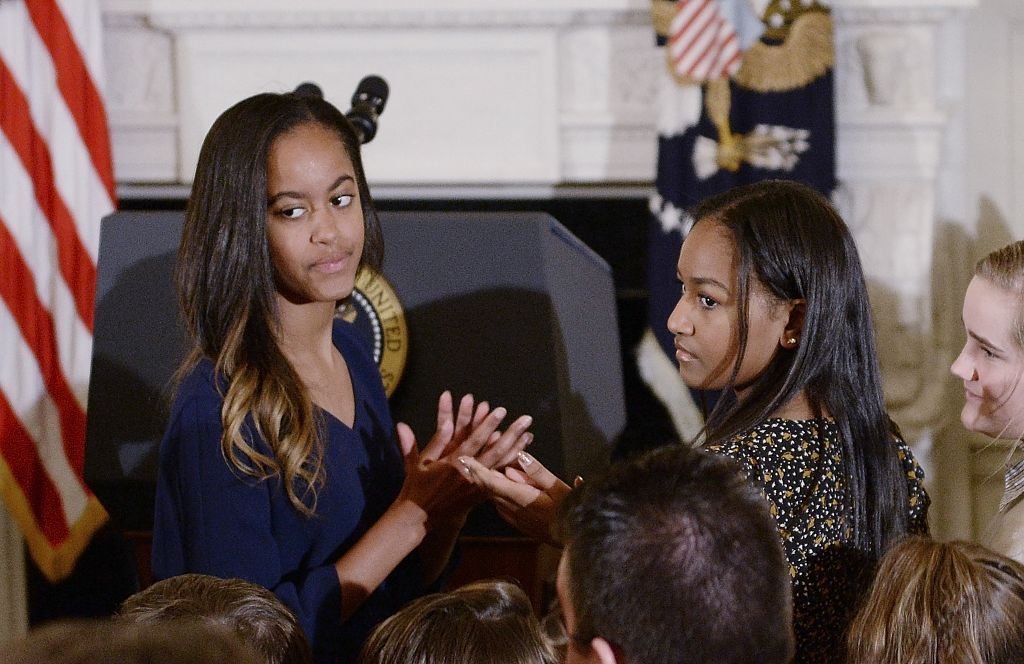 7. When You're Both Thinking, "What Did She Just Say?!"
Who is the poor person who got a double Obama withering stare? Vice-President Joe Biden was receiving the Medal of Freedom when the sisters were captured looking at something/someone off-camera. Whatever was going on, both sisters were clearly in agreement over their distaste.
Our First Daughters, Malia & Sasha Obama. 💕 pic.twitter.com/imHtYtFP3I

— Live Civil (@LiveCivil) March 24, 2016
8. When You Share an Umbrella to Keep Your Hair Dry
Only your sister can understand that your hair should not get wet. And she'll make sure she's got your back.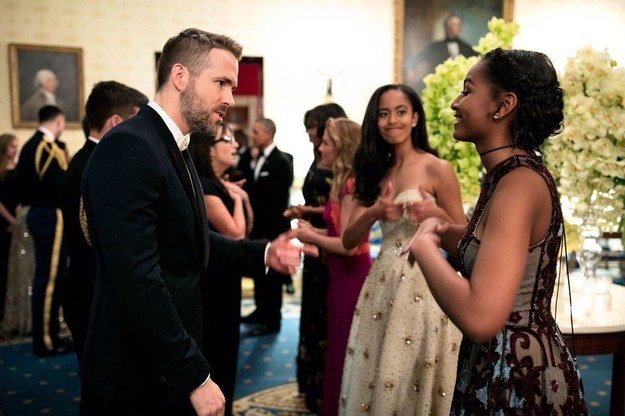 9. When Your Sister is The Ultimate Wingwoman
Malia thumbs upping her little sister as she meets hottie Ryan Reynolds is pure gold.
Sasha Obama looking absolutely gorgeous with her date for prom last night. 💫😍 pic.twitter.com/mxEuzAfO8e

— Pop Crave (@PopCrave) May 25, 2019
10. When Your Sister Is There For All Your Special Moments
Malia had to get a photo with her sister as she headed off to her senior prom. Sidebar: how unbelievably gorgeous is Sasha?!
"MAKE MISTAKES – YOU'RE ALLOWED TO"
As Malia and Sasha prepared to leave the White House after 8 years, they got valuable advice from an unexpected source. Barbara and Jenna Bush, daughters of former President George W. Bush, wrote an open letter to the Obama sisters.
This was more than timely, as they more than anyone understood what it was like to grow up in a bubble and have to transition to normal life.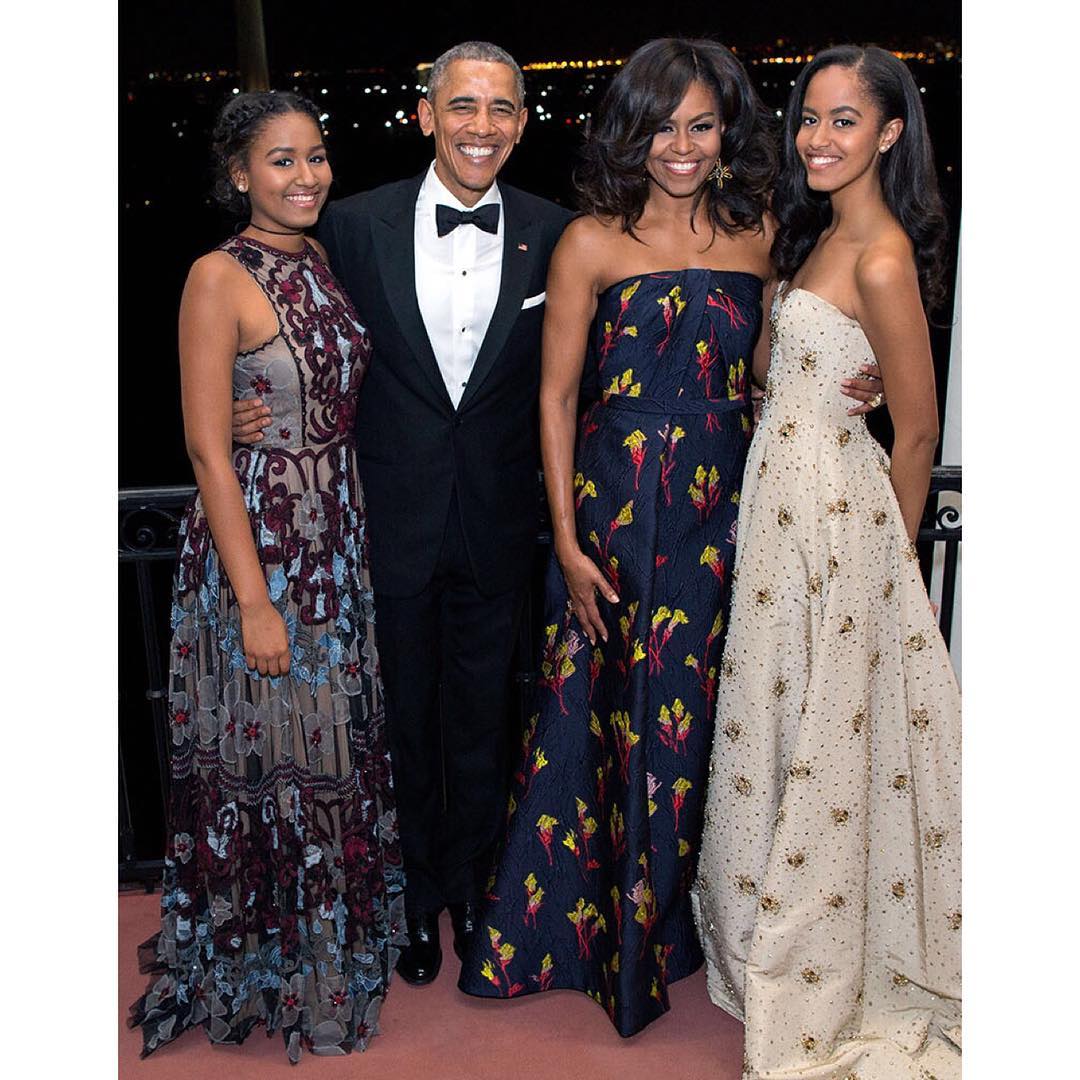 "You have lived through the unbelievable pressure of the White House," said Barbara and Jenna in the letter published in Time. "As always, they [Barack and Michelle] will be rooting for you as you begin your next chapter. And so will we."