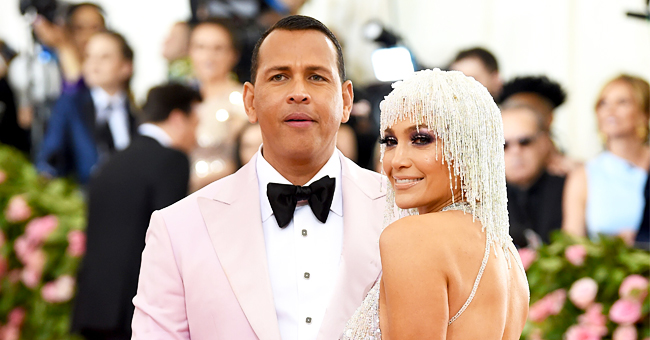 GettyImages/GlobalImagesUkraine
Alex Rodriquez Shares Sweet Video Revealing How He Prepared a B-day Surprise for Jennifer Lopez

Alex Rodriquez posted an adorable video of how he and the kids secretly pulled off a surprise birthday gift on J-lo on Instagram. The actress who just turned 50, but hasn't aged a day was literally over the moon when she sighted her birthday present - a $140,000 Porsche!
The actress celebrated her 50th birthday with an elaborate birthday party in Miami, but that wasn't the most interesting part of her day.
The former New York Yankee Baseball player -Alex Rodriguez shared a heart-warming video of how he and the kids -Max and Emme, 11 (J-lo twins) and Ella, 11, Natasha, 14 (A-rod kids) began plotting a surprise birthday gift four weeks leading up to J-lo's birthday on July 24th.
Rodriguez was initially uncertain about what to buy as he expressed in the video "What do you get someone who already has everything?" However, he and the kids finally made a decision and decided to gift her with a car.
Despite the unbelievable truth that J-lo hasn't driven a car in years as pointed out by Rodriguez: "The irony is we're going to buy Jennifer a car, but she hasn't driven in 25 years," they went for it.
According to Metro, the 911 GTS convertible which had a customized "J-lo" stamp on its bumper costs $140,000.
Rodriquez blindfolded
his fiance
and led her outside while the kids came along with the car with 50 Cents' hit "Go Shorty, it's ya birthday" playing through its speakers.
The actress was immediately overwhelmed and exclaimed:
"What the hell?!' What is that?...I'm going to have to drive, I've never driven a car like this, I've never driven a car, period. My heart's beating out of my chest."
Interestingly, the thrilled J-lo got into the car and decided to go for her first ride in years along with her beau while he teased her by asking:
"Can I get a double seatbelt?"
Really -can these two get any cuter!
THE CAR HELD MORE SIGNIFICANCE TO J-LO
The car meant more to the "All I Have" singer who appreciated Rodriguez for offering her 'my independence back' via the gift. She then added:
"I've never had a car before in my life, I love it, Papi."
We are sure this is one birthday Jennifer Lopez would remember for a lifetime.
Please fill in your e-mail so we can share with you our top stories!