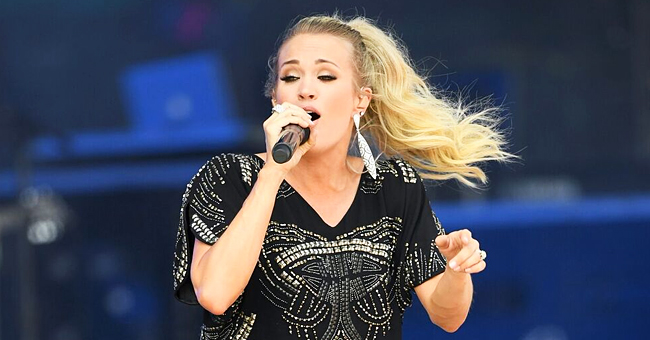 Getty Images
Carrie Underwood's Fans Praise Her Talent after CMA Fest Opening
Carrie Underwood rocked out at the CMA Fest, acting as the show opener for the 47th installment of the event.
Underwood, 36, got back to business just over four months after giving birth to her second child. Clearly, the singer is just that tough as she moved tirelessly across the stage for her performance.
On Sunday, the country music superstar belted out her newest single, "Southbound" to start off the annual show with a bang, and she looked amazing while doing it. A video clip is found below.
The "Cry Pretty" singer wore a black leather top adorned with gold detailing and a gold chain at the neck. She matched it with black leather shorts, putting her toned legs on full display.
She wore her colored blonde locks in a ponytail with some of her long bangs out at the front, giving a slightly wild look. Glitter could also be seen in her hair.
In addition to "Southbound," Underwood reportedly also performed "Before He Cheats," "Blown Away," "Church Bells," "Last Name," and "Love Wins."
Fans responded to the performance with words of admiration and tons of support. One user known only as Dock King said her voice is "phenomenal." Another fan said she's "terrific."
Underwood didn't only entertain the crowd at the CMA Fest. Before the big show, she surprised students of the Eagle Honor Choir, a Nashville elementary school group.
The delighted faces of the Andrew Jackson Elementary School singers were priceless — but well deserved. Back in May, the talented kids sang Underwood's song "The Champion" and their rendition went viral.
The children's version was so popular that it gained attention from CMA Fest organizers, who invited them to perform at the big event. We're sure Underwood was a huge help at that rehearsal.
Last month, Underwood showed off more than her amazing pipes when she stepped out to shoot pictures for her athleisure line. Wearing a dark haltered bikini and a black wrap, the mom of two looked incredible.
All her hard work in the gym definitely shone through in the photo, which also featured fitness enthusiast Angelique Miles. The dark-haired beauty looked incredible in a black and white bikini and black throw-over.
Fans love watching Underwood's every move these days, but the singer wasn't always as popular as she is today. She started early though, singing at just 14 at various clubs, fairs, and talent shows.
Underwood's path changed at one point, and she completed her schooling at the Northeastern State University. She hoped to become a reporter but would have to work odd jobs before succeeding anywhere.
Of course, her biggest move came after she went on "American Idol" and won the show in 2005. The rest of it is pretty much history. In 2010 she got married to professional hockey player Mike Fisher, and she now has two kids.
Please fill in your e-mail so we can share with you our top stories!