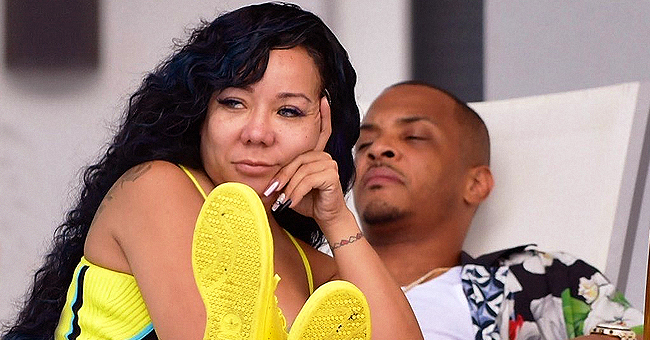 Instagram.com/troubleman31
T.I. Shares Sweet Photo with Wife Tiny but Gets Clowned for Having 'Baby Feet'

T.I. shared a sweet photo of him and his wife Tiny, but instead gets clowned for having "baby feet."
On Wednesday morning, T.I. posted a photo of him and Tiny lounging on a beach bed together. In the photo, he is lying down with his legs across his wife's lap while she sat down. His caption wrote: "Busy doing nothing."
Unfortunately for T.I., he became the subject of criticism as the photo showed his unseemingly tiny feet. Some even mistook it as Tiny's feet, before they realized she had her feet on the floor.
While some argued it was just the angle in which the photo was taken that made it seem as if he had Tiny feet, there were some who just assumed that he does have small feet for a man.
Comments on T.I.'s Shoe Size
"@novahsthevisionary: So no one gonna ask why he got baby feet?"
"@brady_larzon: Your feet look so little"
"@_that.boy.guero_: Why's your feet look like they belong to a 6 month old"
Celebrating their Anniversary
T.I. and Tiny were on vacation celebrating their ninth anniversary together. They were spotted on a luxurious beachfront villa, which they proudly showed on social media.
It wasn't always pure happiness for the couple, however, as they've been tangled up in infidelity issues through the years.
Last year, the Harris couple was the subject of a cheating scandal, when T.I. was filmed getting cozy with another woman backstage.
TIP's latest cheating scandal
The person was discovered to be Asia'h Epperson, whom he cuddled up to during his concert in Indiana. Unfortunately for them, they were not aware that they were being filmed.
The video soon after made rounds on the internet, which ended with the couple being on rocky ground.
After a couple of months, however, Tiny found it in herself to forgive her husband and take him back. Now, they live a happier life together with their children as a blended family, including Domani, Messiah, Deyjah, Major, Clifford, Heiress, and Zonnique.
Please fill in your e-mail so we can share with you our top stories!