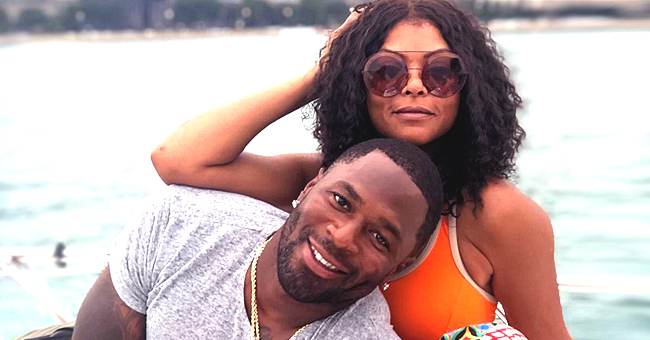 instagram.com/tarajiphenson
Taraji P. Henson Cuddles up to Fiancé Kelvin Hayden on Boat in Chicago in New Photos

Famous "Hidden Figures" star, Taraji P. Henson, is a woman in love as she takes to social media to flaunt PDA-packed photos of herself and her new beau.
Just a few hours ago, Henson set the media abuzz with numerous pictures of herself and her lover, Kelvin on a private yacht.
There are a total of four photographs, and every one of them features the couple in intimate poses that have drawn the attention of the entire internet.
"Us on any given Sunday (in the summer in Chicago) @kelvinhayden my baby for life #4/4/20," Taraji wrote in her caption hinting at their wedding date.
For the relaxed outing, Henson wore a colorful ensemble that stood out against her stunningly bronze complexion. It included an orange tank top, baggy pants as well as accessories – stylish sunshades, a simple gold bracelet as well as her eye-boggling engagement ring.
Very little can be seen of Taraji as she was mostly covered by her hunky boo who leaned against her as they lounged on the boat.
The sports star is also dressed in a laid back manner; he wore a grey tee atop dark brown pants and accessories with silver earrings and a gold chain.
The pair get all lovey-dovey as Henson posed for the shots with her arms about Kelvin and her lips kissing the back of his head.
The third picture captured serenity between the pair as the award-winning actress fondly rested her head atop Kelvin's shoulders and smiled brightly. Another one of Henson's post features only her, and so gives a clear view of her chic yet relaxed outfit.
Her sweet snaps with 36-year-old Kelvin are, unarguably, the most beautiful. Going by the nearly 400k likes the pictures have already garnered within hours, fans think so too. Avid supporters of the stunning couple also took to the comments section to compliment the couple.
In awe of Henson's beauty, one such fan, @complexdit.s commented:
"YOU're even more perfect without a hint of makeuPPP!! your skin is flawless."
"You two might just be the most attractive couple I've ever seen," wrote another fan, @kildufftheresa.
While one curious user, @_sixgoddess wrote:
"I would love to hear the how we met story. It looks like it would be a good one @tarajiphenson."
It is, indeed, a charming story! Henson once reportedly shared that it was love at first sight for her. She detailed that her makeup artist introduced her to Kelvin some four years ago and even arranged a party full of eligible bachelors for Henson.
It may have been over the top, but it did find Henson the perfect lover. She disclosed that she was attracted to Kelvin immediately she saw his photos.
"I was like, 'Wow, something about his eyes are so gentle.' And you know how they say you can fall in love at first sight from a picture? That's exactly what happened," she recalled.
How adorable!
Please fill in your e-mail so we can share with you our top stories!