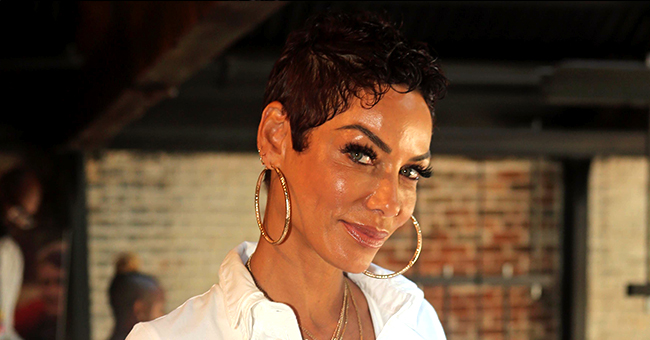 Getty Images
Nicole Murphy, Who Was Caught Kissing Antoine Fuqua, Once Shared Her Thoughts on Dating Older Men
Nicole Murphy reveals why she'd prefer not to date older men after her divorce from Eddie Murphy back in 2006.
Nicole Murphy is ageless. At 51-years-old, she looks the same as she did back in 1993 when she got married to Eddie Murphy, whom she was with until 2006. She revealed the secrets to why she still has a youthful glow on her, and it has something to do with the way she portrays herself, skincare, and the people she surrounds herself with.
Doing promotional rounds for her new skincare line, "Softt Beauty Skin Care," and her new jewelry line "FLP: Friends, Love, and Peace," Nicole opened up about her love life, and all the rumors surrounding it.
Nicole Murphy's Dating Preferences
While on Sway's Universe SiriusXM, Nicole shares her thoughts about numerous things. When asked if she would date a non-wealthy man, she said:
"I'd consider it, as long as he's a good person, got a great personality, he has to make me laugh. […] It's really on the person though…I wouldn't shut him down just because he may not be financially on my level."
She then slammed rumors about dating Drake and Nick Cannon, saying the both of them are just really good friends of hers.
On Dating Younger Men
As for the topic of dating younger men, Murphy was asked how she felt about the stereotype of older men being able to date young women and not the other way around. She then answered that it's not fair.
"Oh I can't stand that, I don't like that. I don't think that's fair. Why do we have to be stuck with some old fart?!! LOL. Right? WHY? Why do I have to have something…broke down. Why can't I have some nice young thang?"
A Controversial Affair
While she said this about her dating preference, she was spotted kissing Antoine Fuqua in Italy just last month, and it dragged her name as Antoine is Lela Rochon's husband of two decades.
Unfortunately for Nicole, she was caught kissing another woman's husband, and with no surprise, that angered a lot of people.
While Murphy is known to be single, Fuqua has been married to wife Lela since 1999, and the photos of them might just put them on rocky ground.
Despite the controversy of the photo, Nicole clarifies that she and Antoine are just family friends and exchanged "friendly hellos."
Please fill in your e-mail so we can share with you our top stories!