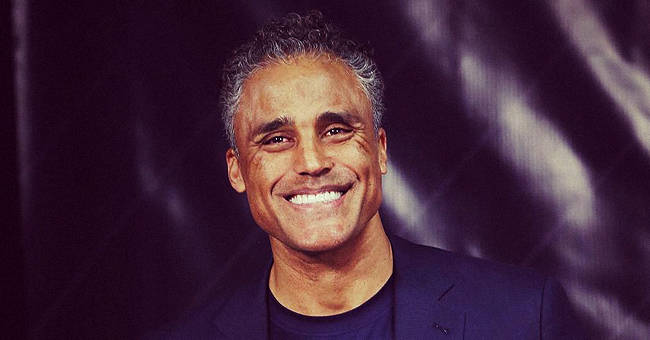 Instagram/imrickafox
Rick Fox's Son Kyle Is All Grown up and Looks so Much like His Former NBA Star Dad

Kyle Fox is Rick Fox's son with former girlfriend Kari Hillsman. In a new Instagram post, the actor's fans were reminded of the striking resemblance between him and his son.
In the post which Kyle captioned "I need a haircut," his followers were swift to flood the comment section with sweet words such as:
"Splitting image of your dad," "Can I have your eyes?" and so on.
In response to the comment about Kyle's resemblance with his dad, another fan confirmed by writing, "was thinking the same thing. Aw Ky! Apple, tree that whole thing blah blah." (The apple doesn't fall far from the tree).
About a week ago, Rick shared an image which showed Kyle standing in an embrace between him and his godfather, King David Rice. The actor captioned the photo which had all the men smiling with the words,
"Quality time with @kylea.fox and his #GodFather#KingDavidRice 35 years of friendship #Love."
Rick Fox was a former basketball star who played in the NBA teams Boston Celtics and Los Angeles Lakers and won three NBA titles during his career. Although Kyle chose a career similar to that of his star father, he decided he was more interested in video games and eSports.
In an honest interview with Vice Sports, Rick revealed he was an absent father through most of Kyle's early life. The star explained that video games and eSports helped him forge a bond with his son. While Rick was at the peak of his career and was playing for the Los Angeles Lakers, his son was raised alone by his mother, Kari.
Though he regretted not being with Kyle physically, Rick and his son connected in the virtual world by playing games like World of Warcraft and League of Legends together.
Since then, Rick has taken up his son's professional dreams upon himself. In 2015, he purchased a professional League of Legends team making him an eSports team owner. Rick also believes that "video games help heal a lot of parent-child relationships."
2019 has been quite rough for the 50-year-old actor who suffered backlash after he was caught in some racism scandal. His son, however, stood up for him and asked fans of the eSports community to showRick love and support.
"If anything my dad has done has affected you positively, or you've considering sending something nice to him, just do it," he wrote. "He checks his Twitter, he will see it. And your support means more than you will ever know." Rick wrote.
The message was met with good faith, and the community was swift to send the family well wishes!
Please fill in your e-mail so we can share with you our top stories!