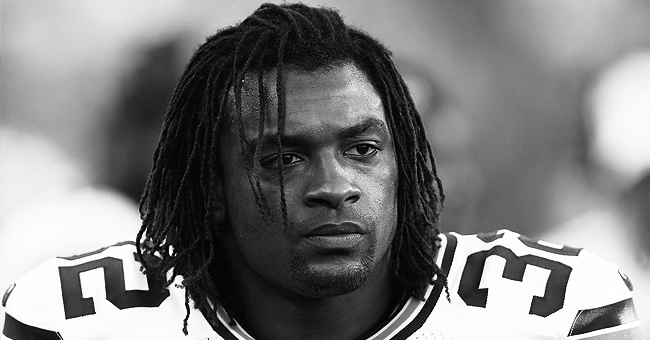 Getty images
Retired NFL Star and UT Football Legend Cedric Benson, 36, Dies in Motorcycle Accident

Former NFL player Cedric Benson died in a motorcycle crash in Texas.
The world of sports mourns the tragic death of former NFL player and Texas Longhorns star Cedric Benson.
Benson, who was only 36, died in a motorcycle crash in Austin Texas, on the night of August 17, 2019.
CEDRIC BENSON KILLED IN TRAGIC CRASH
According to reports released by Austin police, Benson's motorcycle hit a minivan while crossing an intersection.
The former NFL star and his passenger, a woman who has not been identified, were pronounced dead at the scene by first responders. Two of the passengers of the minivan were injured but refused hospital treatment.
Mike Brown extended his condolences to Benson's family and mourned the passing of a fine player and a good man.
CEDRIC BENSON'S LAST POST ON INSTAGRAM
Just hours before his tragic death, Benson posted a photo of his BMW motorcycle on Instagram with the caption "My Saturday evening," surrounded by hearts. The player's final post has been removed.
FOOTBALL WORLD REACTS TO CEDRIC BENSON'S PASSING
Benson, who played college football for the Texas Longhorns, and for the Chicago Bears, Cincinnati Bengals, and the Green Bay Packers as a professional player is being eulogized by his former teams.
"Our condolences to the friends and family of former Bears running back Cedric Benson, our 4th overall Draft pick in 2005 and member of the 2006 NFC Champions team," the Chicago Bears posted on Twitter.
CEDRIC BENSON'S COACH MOURNS
Former Bengals running backs coach Jim Anderson spoke of Benson's qualities as a player and as a man.
"Once he bought into our system, he was like a flower. He just blossomed. He gave us an element we didn't have. We had complementary guys, but Cedric gave us a missing element. He was a good man. He was one of my guys and it hurts. Life is too short," Anderson said.
Likewise, the Cincinnati Bengals President Mike Brown extended his condolences to Benson's family and mourned the passing of a fine player and a good man.
He is joined by players, and coaches who worked with Benson from his earliest career at the Longhorns, and thousands of grieving fans.
R.I.P. Cedric Benson.
CEDRIC BENSON'S FAMILY IN SHOCK
Cedric Benson's sudden death in a motorcycle crash gas been received with horrified disbelief by his family.
On the morning of August 18, just hours after Benson had been pronounced dead at the scene alongside his passenger a 32-year-old woman, his brother Dominic Benson posted the news on Facebook:
"No no no no no no God no!!!! Why him man!!!!! Not Ced man."
Dominic followed the post with a comment simply saying:
"My brother gone."
As yet, no date has been set for a memorial service for the former NFL star, and the family has issued no statement, beyond Dominic's heartbroken announcement.
Please fill in your e-mail so we can share with you our top stories!