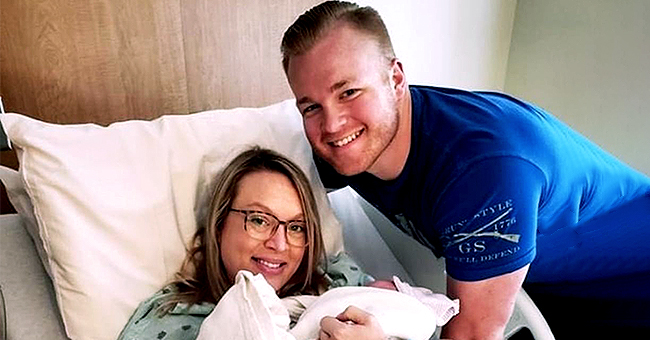 instagram.com/todayshow
Kind Stranger Charlene Vickers Helped Sgt. Seth Craven Get Home to His Pregnant Wife in Labor
A good Samaritan did an act of kindness that Sgt. Seth Craven will never forget and always be grateful for. Because of Charlene Vickers, Craven was able to witness the birth of his first son.
A U.S. military servant was able to see the birth of his first child, thanks to a stranger, Charlene Vickers, who helped him make his way home. The father-to-be readily planned his trip home to Charleston, West Virginia to be with his wife in labor, but experienced troubles toward the end.
The connecting flights he was supposed to take from Philadelphia to West Virginia were canceled for two consecutive days, trapping him there. To make things worse, car rentals were not made available after the storm that had just passed.
Amid his hopeless situation, a program director for AmeriHealth Caritas Partnership, Charlene Vickers, approached Craven and offered him a ride to West Virginia, where she was headed as well.
"He was sitting on the ground with his back up against the wall, and he had his arms draped and his head down," Vickers told TODAY. "Once I learned that he had been traveling since Monday from Afghanistan to get home for his wife's pregnancy, I knew I had to do something."
Craven gladly accepted the offer, and together with Vickers and her colleagues, Eryn Glassey, and Maureen George, they embarked on a long drive to Charlotte. Craven's wife, Julie, told TODAY about her initial presumption that her husband would not make it in time, which made her scared to deliver a baby alone.
"With all these setbacks, I really felt like he wasn't gonna make it," she said. "I was just very scared that I would have to go through this experience alone."
However, things took a turn when a selfless stranger decided to commit a random act of kindness. Julie recalled the moment the reunited -- Craven "fell on his knees" and placed his "head and hand on my belly."
"We were both in tears. He is a very strong man so for him to kind of crumble like that I know that getting here had been such a struggle for him," she said.
It is good to know that there are still people who reach out to others in times of need, even though they are strangers. Similarly, Vincent Seals, a worker at Millbrae BART station in California, saved a man whom he has never met.
After he saw an unconscious man, he started performing CPR, not knowing how long it lasted. It was pure instinct for Seals and only wanted the man to recover immediately.
Please fill in your e-mail so we can share with you our top stories!