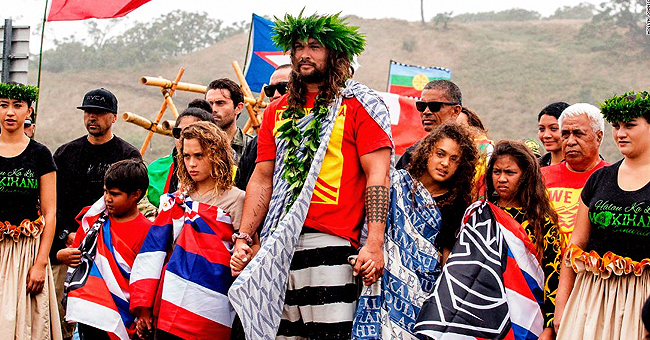 Twitter/CNN
Jason Momoa Opens up about His Fight for a Sacred Hawaiian Mountain

Jason Momoa makes people understand why he's fighting hard to keep people off the sacred Hawaiian dormant volcano, Mauna Kea. His fight begun when plans of a thirty-meter telescope came to light.
Jason Momoa grew up in Hawaii, so he knows its history more than anything. Now, he is using his influence to let people stand beside him in his fight towards stopping the plan of having a thirty-meter telescope in the mountain.
The Umbilical Cord to the Earth
According to Jason, the mountain is the state's connection to the Earth, as it is right smack in the middle of it.
"It's kind of the umbilical cord to earth. You know, if you think about the Hawaiian islands, that's the biggest mountain in the world, right? All the way up. So Mauna Kea is the most sacred. They call it the belly button, too. That's like our birth place. You can imagine that in the middle of the ocean. That's how our islands were formed. So how can that not be sacred?" he asked.
The Controversial Plan
The Thirty Meter Telescope, also known as TMT, aims to drill directly into the mountain, which would ultimately damage it and invade its water supply. It is known as the "tallest" mountain in the world, as between the foot of Mauna Kea and its summit measures 10,000 meters.
For now, protesters have successfully blocked off the only road that construction workers may use to head up to the mountain to build the billion-dollar observatory.
Momoa's Need to Start a Change
He also shared that the plan has been there for years, but now, they were actually starting to do something about it.
"It started in 2015, heard the news about it and you know, it's, it's my home. I'm Hawaiian. It's my nationality. What's happening over there was just not right, and I wanted to bring awareness to it. And I went over there to meet with everyone and from then on, it's just been this constant as a devotion to bringing awareness to the world."
On Using Their Free Time for Protest
When he's not preparing for "Aquaman 2," or his other projects in Hollywood, Jason, and his family are in Hawaii, protesting for the halt of the TMT project.
He and his wife and children joined other Hawaiian natives in their protest against the construction, showing their solidarity with the rest of his hometown.
Momoa made it his responsibility to let everyone's voices be heard, especially since they were all fighting for something that means a lot to many people.
It's not just Jason who did something about it, though, but even Dwayne "The Rock" Johnson joined in on the protests. He stood with the crowd, peacefully disapproving the project.
Please fill in your e-mail so we can share with you our top stories!