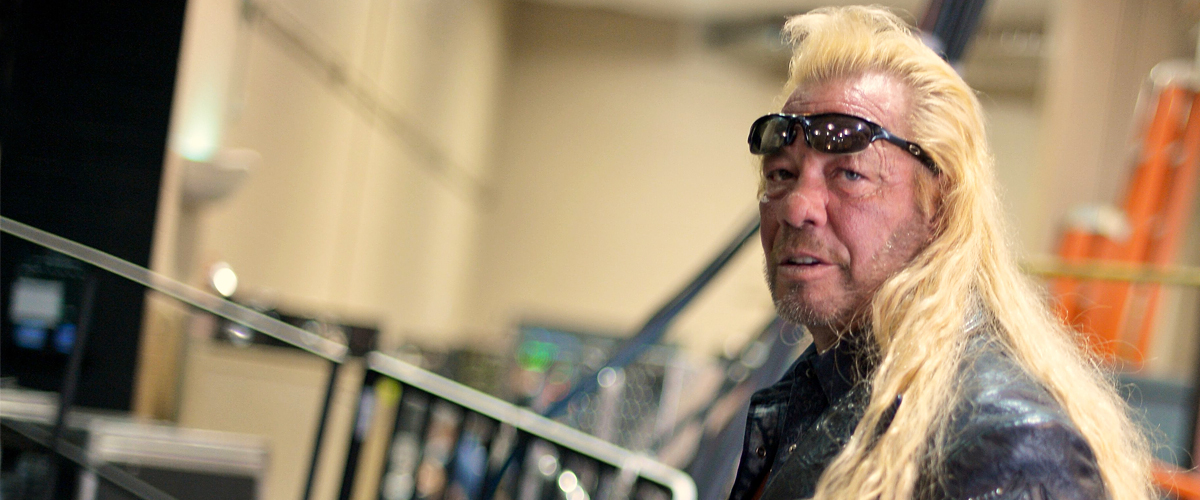 Getty Images
Meet Duane Chapman's Entire Team on 'Dog's Most Wanted'
Not even Duane Chapman can do it alone when it comes to hunting down criminals. The famous bounty hunter has a well-qualified team behind him as he prepares for the latest action-packed show, "Dogs Most Wanted," details of which are found below.
Kaleo Padilla
Kaleo Padilla is a former boxer who represented Kailua Kona, Hawaii before joining Duane "Dog" Chapman's team. He last played on April 8, 2011, when he competed in the middleweight class. His nickname at the time was "The Pervert." His new nickname is "One Slap."
Sadly, Padilla's father Rodney Padilla passed away in March last year. The loss came just months before Beth Chapman was diagnosed with lung cancer. At the time, Beth took to Facebook to honor the loss of her close friend's dad. "It is with deepest sadness that we say goodbye," she wrote.
She asked everyone to keep Padilla in their prayers and at the end wrote, "We love you bruddah." The mourning son simply wrote: "Love you Dad with all my heart. Can't say enough about you. Just wish I had a little more time with you."
Sonny Westbrook
Sonny Westbrook is another Hawaiian comrade that worked with the bounty hunting couple before Beth left us. Westbrook was an actor, whose main work was on "Hawaii Five-O."
Like Padilla, he also was involved in boxing, and at one point worked as a trainer. His nickname back then was "One Whack Medevac." Before he crossed over to bounty hunting, he once knocked out UFC Hall of Famer Don Frye.
Rainy Robinson
Rainy Robinson is the most easily distinguished on the bounty hunting team thanks to her icy blonde hair. Rainy has only the acting credits of herself thanks to the show but based on the official "Dog's Most Wanted" site, she's much more than just that.
The "Dog's Most Wanted" website describes Rainy as one of the "smartest" among the crew. In addition to several degrees, she also has many successful business startups. Her wit and intelligence act as a wall against the flimsy excuses of any clever fugitives.
David Robinson
The husband of Rainy, David Robinson has been with Dog's team for nearly a decade now. While Rainy is the mouthpiece, David works behind the scenes as the tech wizard of the team.
Leland Chapman
Son of Dog the bounty hunter himself, Leland Chapman also took up boxing as a teenager along with mixed martial arts. Now 42, Leland was on the original show "Dog the Bounty Hunter," then on 2014's "Dog and Beth: On the Hunt," and will soon be on "Dog's Most Wanted."
Jamie Chapman
The tattooed blonde bombshell named Jamie Chapman brings the heat to the show in many ways. She compiles all relevant information and gets new leads on cases. Sometimes, she even works as bait — safely, of course.
Dakota Chapman
Reality tv bounty hunting is a family affair for the Chapmans. Leland's son Dakota also joined the team and his distinct look lies in those long, curly black locks.
According to the site, Dakota's best skill is his quickness. Fugitives will not hesitate to dash off once they realize they've been made, and Dakota's fast pace is an invaluable asset to making the catch.
Garry Chapman
Leland's brother Garry has not been on every episode of the show, but when he's there, his presence is strongly felt. The 250-lb young adult stands at 6'4."
In addition to helping hunt most wanted criminals, he's also a certified scuba instructor who speaks Spanish and knows American Sign Language. Still, in case communication doesn't work, he has ample size to fall back on.
Cecily Chapman
Rounding up Duane's team is Beth's youngest daughter Cecily Chapman. Cecily may be a bit less experienced, but she has the whole team to guide her along as she turns pro. No doubt the hunting gene is in her DNA. We can't wait to see where she excels.
All Together Now
The entire team is set to return for the premiere of "Dog's Most Wanted" on September 4 at 9 pm, 8 pm Central time. Fans can watch reruns of the old show starting a day before the premiere.
Beth Chapman will appear in some episodes of the show because she opted to continue working even as she was battling lung cancer earlier this year. Beth died on June 26. The tributary show will air on the network WGN America.
Please fill in your e-mail so we can share with you our top stories!