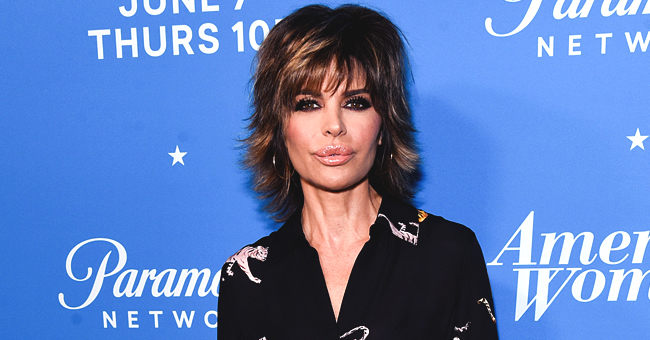 Getty images
Lisa Rinna's Daughter Delilah Stuns in Brown Two-Piece Swimsuit in Photos with Boyfriend

Love is in the air for Lisa Rinna's baby girl, Delilah Belle Hamlin, as she dishes her hot body with her man on a surfboard.
The recent upload on Instagram from the 21-year-old oozed of fresh and radiant love. Delilah posted a stunning image which featured her boyfriend, 24-year-old Booker having fun in the ocean.
Booker's beau donned a brown colored swimwear as she flaunted her hot body to her followers with the badass modelesque pose. That was not all as Delilah complimented her goddess-like look with brown colored glasses to block out the sun rays.
Her beau was in black and white shorts; the model showed off his toned abs and firm legs as he struck a bad-boy pose behind her. He grabbed onto a paddle with one hand with the other, firmly away from his body.
Lisa's daughter's caption detailed the intricacies of their outing. She revealed how poorly they performed with the board on the sea. It read:
"Failed to execute the sport of paddleboarding correctly."
It's no surprise these two could not navigate appropriately while on the ocean. After all, they are so into each other, and were more concerned with sharing how much they complement each other with their pose!
The 21-year-old's fans and followers on Instagram could not help but notice this love-struck image. Some thought it was a beautiful shot, while some didn't mind whether or not they paddled their board.
Comments like "You should live stream," "Cute," "Greek gods," "At least you got a dope picture out of it," filled her comment section. The pair clearly cannot get enough of each other, and they are not afraid to show it.
In an interview with Entertainment Online, the "Love Island" season 4 star, opened up about how he met his heartthrob.
He stated that they connected through his beau's sister, 18-year-old Amelia who was an ardent watcher of the show. Delilah's sister told her how the young man was in search of love. She reached out to him, and well, the rest is history!
He further explained how their relationship operates. Although they have distance as a barrier, they manage to find a way around it. Whenever they see each other, they make it a memorable and worthwhile experience.
The 21-year-old, on the other hand, told Page Six that Booker was her savior. According to her, he positively redefined her life. After her battle with depression and anxiety, the 24-year-old came into her life at the perfect time, and her uploads are proof that she is doing well.
The duo seem to be the happiest couple, and seem to be an inspiration to other relationships!
Please fill in your e-mail so we can share with you our top stories!