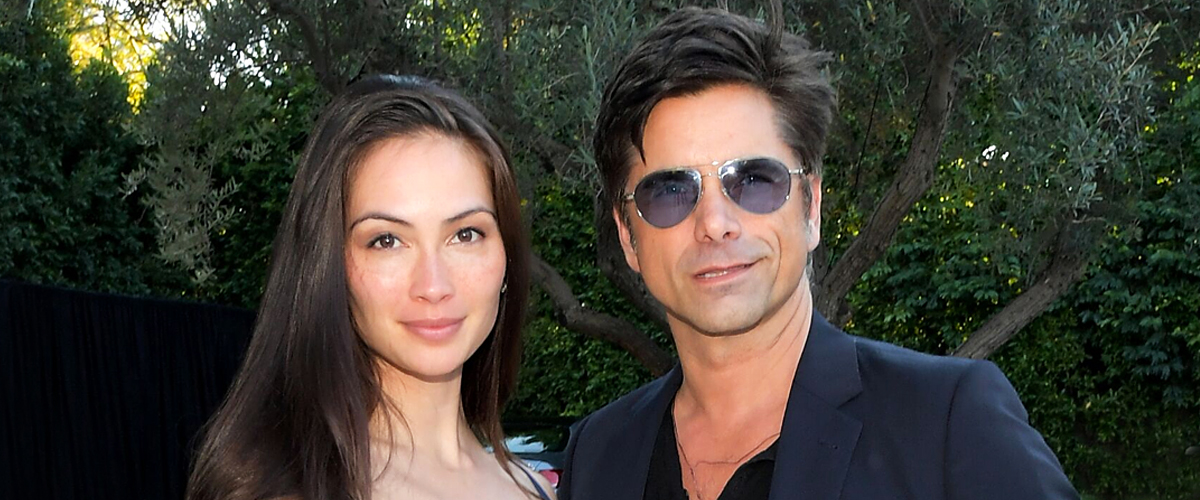 Getty Images
How Did John Stamos Meet His Wife and Mother of His Son Caitlin McHugh

Even though John Stamos was in a relationship with Rebecca Romjin for a decade, she is not the mother of his only child. It is Caitlin McHugh, who married him in 2018.
John, best known as Blackie Parrish on "General Hospital" and Jesse Katsopolis on "Full House," met Rebecca when she was modeling at a Victoria's Secret fashion show. In 1994, the pair started dating and tied the knot four years later.
Unfortunately, the former couple announced their separation in April 2004 and officially got divorced in March 2005.
He desperately wanted to have a child
John remained single for several years, a worrying fact for a person who wanted to have children. In an interview with Us, the actor made it clear that he wanted to become a father and even joke about his "ovaries."
"My ovaries are rattling. Do men have ovaries? They're jingling. I can hear them jingling now," he said.
John Stamos and Caitlin McHugh's relationship
Thankfully, cupid heard his laments and placed Caitlin McHugh in his path. Both actors met each other while filming an episode of "Law & Order: SVU" in 2011.
In the episode, John portrayed an egotistical man who would poke holes in condoms as a way to spread his progeny and had plenty of children. Caitlin, ironically, was one of the women that his character was trying to "fool and have a baby with."
At the moment of their first encounter, Caitlin was seeing someone else. A while later, the actress' roommate appeared on an episode of "Fuller House," where John was working, too.
As a way to support her friend, Caitlin was in the audience. John saw her and knew that it was his moment to flirt.
"I went, 'Hey, are you stalking me?' She was like, 'No…' That's why I love her. She's like, 'What? No. I haven't thought of you twice,'" the actor revealed.
Making things official
During an appearance on "The View" in 2016, John announced that he was officially dating someone. Even though he didn't name her, he made sure to say a couple of cute and romantic things about Caitlin.
"Of all the things I get to do in my life, that is my all-time favorite thing," the "General Hospital" star shared.
It was confirmed that Caitlin was his other half in April 2016, when the pair attended the TV Land Icon Awards at The Barker Hanger together. From that point on, they started making more public appearances, proving how much they love each other.
Popping the question
In October 2017, only two years after John and Caitlin began dating, the actor popped the question. As a way to make the proposal even better, he took her to her favorite place: Disneyland.
The actor showed her a video of some of the most romantic moments from Disney and Pixar movies and, in the end, Sebastian from "The Little Mermaid" told him "go on ask the girl!"
Only two months after their engagement, the couple announced that they were expecting a child. In February 2018, John and Caitlin tied the knot in a Disney-themed ceremony in Studio City, California.
Their son, Billy
John's dream of becoming a father came true on April 10, 2018, when his son William (Billy) Christopher Stamos was born. The couple named him after John's father.
One year after the baby's birth, the actor took to Instagram to share a photo dressed like Elvis Presley while holding Billy. The most interesting aspect of the pic is that both of them have a similar smirk on their faces.
Even though they have been sharing many details of their relationship, the actress pointed out that they preferred keeping their lives in private.
"We don't want the commentary from the masses about what our relationship is or should be. We're very happy together, and we hope to be so for a long time," she revealed.
At the moment, Caitlin and John are still together. While they have not said anything about their future, their fans hope that they welcome more children together!
Please fill in your e-mail so we can share with you our top stories!