AGT Judge Julianne Hough Shows off Her Fit Figure in Mermaid Tail Suit While Swimming in a Pool
Julianne Hough is a beautiful mermaid! She showed off her fit body while swimming in a pool, dressed in a colorful mermaid tail.
Julianne Hough showed off her fit figure while swimming in a colorful mermaid tail at a pool in a place surrounded by nature. She shared a series of photos to her Instagram story showing her in different poses.
In one of the photos, Hough sitting on a white brick platform raised and crossed her arms in the air, with her blonde hair resting on her shoulder. In another, she placed her arms behind her, as she looked ahead.
In a third, the dancer leaned close to the pool beneath her, and in the fourth, she dived halfway into the water, with part of her mermaid tail resting on the slab.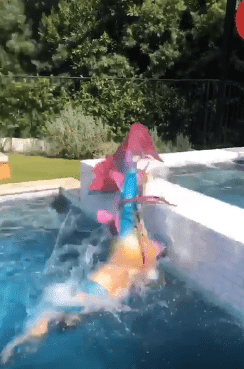 In December 2017, the AGT judge, while vacationing in Indonesia shared a similar photo underwater on Instagram. She wore a pink and blue mermaid tail and positioned her hand in such a way that displayed her dancing expertise.
Hough's flat tummy and abs were equally on display, and she captioned the photo:
 "When you are a magical, mystical mermaid."
Recently, the former DWTS pro has been showing off her magnificent body and tons of self-love. In a series of photos shared to her Instagram, the "Footloose" actress expressed her love of dancing wearing a sports bra, cutout sweater, and skintight leggings. Hough struck a sexy pose placing her left hand on her hair, the right on a seat, while she tilted her left foot.
The TV personality has been living her best life, and during the semifinals of AGT, she joined the acrobatic Meshodi Brothers for a performance.
In an interview afterward, Hough expressed her gratitude for being part of a show that allows her to retain her love for performance art while helping the contestants achieve their dreams.
In August, the dancer who revealed in the September issue of Women's Health that she is not "Straight" was equally grateful to her family for their support. Hough, extended her gratitude to her husband of two years, Brooks Laich, who also supported her after she came to him.
Laich described his wife as brave and courageous and applauded her sharing her journey of trials and triumphs with everyone. The actress feels lucky that she gets to be herself, and be accepted by those who love her, as she continues her journey of self-discovery.