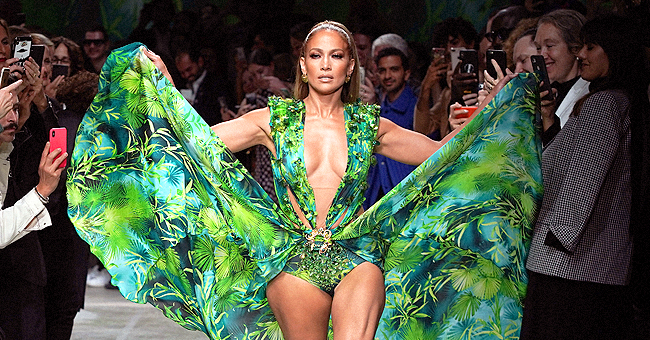 'Hustlers' Star Jennifer Lopez Models Iconic Grammys 2000 Dress as She Closes Versace Fashion Show in Milan

Jennifer Lopez outshone all of the supermodels as she closed Versace's Milan fashion in a sexy jungle dress.
Jenifer Lopez has done it again.
19 years after she blew up the Internet with her provocative jungle dress, she ruled the Versace runway in an even more daring version of the dress she scandalized the world with at the 2000's Grammy red carpet
"So this just happened.. @donatella_versace #jungledress @versace #stillgoingstrong #20yearanniversary #catwalk," Jennifer Lopez
JENNIFER LOPEZ RULES MILAN FASHION WEEK
The runways of the Milan Fashion Week might have been crowded with supermodels, but none of them could hold a candle to "Jenny from the Block."
Like the true star that she is, Jennifer owned the catwalk with a sultry confidence that no-one else can match.
CLOSING THE SHOW WITH DONATELLA VERSACE
The megastar didn't just have the singular honor of closing the show, but Jennifer got to walk out again with designer Donatella Versace and received a standing ovation from the press and the audience.
THE ICONIC DRESS THAT JENNIFER LOPEZ ALMOST WORE
As for the dress, it consists of the merest wisps of stunning green silk that drape and part enticingly to show off Jennifer's stunning figure.
The dress' floating panels are cleverly designed to hint at nudity, but conceal all.
JENNIFER LOPEZ, QUEEN OF THE RED CARPET
Devoted J-Lo watchers weren't the least bit surprised o see their idol dominate the runway.
After all, the woman has been ruling every red carpet she steps on for decades with her irreverent, and infallible sense of style.
And Jennifer is having a fabulous year, not only has she released a new movie that is receiving rave reviews, but she is now engaged to the absolutely delicious Alex Rodriguez.
And did we mention that the body she'd flaunting in that green dress is 50 years old? Yep... Some girls have it all, and then there's Jenny...
JENNIFER LOPEZ HEARS OSCARS BUZZ FOR "HUSTLERS"
If there is one award that has escaped Jennifer Lopez so far in her varied and multi-faceted career, it has been the coveted Academy Award.
But since the release of her new movie, "Hustlers," reviewers and critics are confident that Jennifer's performance may get her that prestigious Oscar nomination.
In the movie, Jennifer plays Ramona, a stripper who along with several colleagues decide to scam their Wall Street fat cat clients.
By all accounts the movie is fabulous, and there's even a cameo by Cardi B, who was a real-life stripper before becoming a rapper.
Please fill in your e-mail so we can share with you our top stories!