Singer Jessica Simpson Shows off 100-Lb Weight Loss in a Black Dress 6 Months after Giving Birth
Just one week after her youngest daughter turned 6-months-old, Jessica Simpson is showing off her the results of her post-pregnancy weight loss.
Jessica Simpson has proudly documented and poked fun of her pregnancy weight gain. Even with trolls mocking her figure, every chance they got, she flaunted her pregnancy curves.
Revealing that she gained 240 pounds during her  pregnancy, Simpson shares a picture celebrating her weights loss, saying:
"6 months. 100 pounds down (Yes, I tipped the scales at 240 ?) My first trip away from #BIRDIEMAE and emotional for many reasons, but so proud to feel like myself again. Even when it felt impossible, I chose to work harder."
Styled in all black, Simpson posing in a pleated dress, with a large belt that shows off her cinched waist.
Sharing a second picture with her daughter, Birdie Mae Johnson, on her hip, the mother of three looks happy and confident, getting back to herself in a sexy dress.
Simpson has been working with celebrity trainer, Harley Pasternak. 
Pasternak has worked with other celebrities such as Jordana Brewster, Adam Levine, Megan Fox, Ariana Grande and Lady Gaga. He gushes about Simpson's latest accomplishment, saying:
"Beyond proud of this incredible woman. Been working together for over 12 years and she's always the most warm, sweet, polite, and respectful person in the world."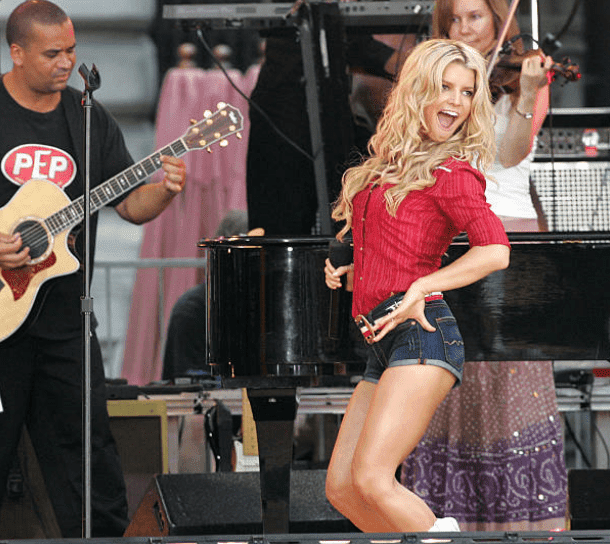 "And on top of it all, after being nonstop pregnant for as long as I can remember, she's down 100 pounds and looks younger today than she was when we met," Pasternak continues.
Sharing every awkward and adorable pregnancy moment, from sick days, breaking the toilet seat and struggling to fit in between cars with her big belly. Simpson admits that weight gain has always occurred throughout all her pregnancies, she explains:
"I am just one of those pregnant women who gains a lot of weight. I have really big boobs. I have my curves. Even trying as hard as I did with Ace, I still gained…definitely not as much as with Maxwell, but still a significant amount." 
It is reported, Simpson is aiming for the best result by trying to be the healthiest she can be. She has lost most of her pregnancy weight by working out regularly and focusing on cardio exercises, such as setting a goal of walking 3 miles a day. She is also eating healthier and enjoying cauliflower.