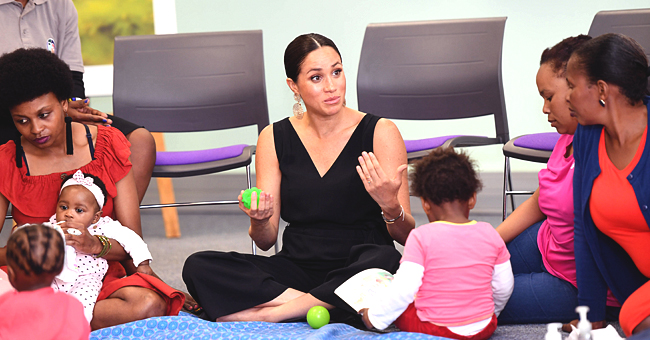 Getty Images
Meghan Markle Invites Moms & Their Kids to Join Her on Floor on Visit to South Africa HIV Charity
Meghan Markle gets very comfortable sitting on the floor during a visit with a group of mothers from the 'Mother2Mother' charity. She also brings along Archie's hand me downs to donate to the charity.
After visiting the Archbishop Desmond Tutu with her family, Meghan Markle got right back to business with her first solo engagements, for the royal tour of Africa. Arriving at the "Mothers2Mothers" office in Cape town, the Royal editor for Hello!, writes:
"In the spirit of community' Meghan brought some of Archie's baby clothes to @m2mtweets, including a onesie saying "The Future" and his @WeAreInvictus one that he's outgrown. She also brought donations from her friends with children: #sussexroyaltour #Archie."
"Mothers2Mothers" is an international non-profit organization. It aims to prevent mother-to-child transmission of HIV.
The organization works with women living with HIV and trains them along with health workers, to help educate and support other women at risk or living with HIV.
Sitting on chairs in front of a play mat with the group women holding their children on their laps, Meghan decides to make a little more comfortable for her infant guests, she explains:
"I can't be the only one sitting down here. I just think if Archie were here with all those toys on the floor and I made him sit in the chair, it would be so unfair!"
Sitting cross legged on the floor, Meghan reaches for a book to give to one of the little girls. Much to the shock of the other mothers she motions for the to join her on the floor.
After a few uncomfortable seconds waiting for them to join her, the group gets settled on the floor with their children they begin sharing their stories.
"Its so important we're able to share what's worked for our family and know that we're all in this together with each other. So we wanted to share something from our home to each of yours," Meghan reveals to the mothers.
Meghan brought with her several items of clothing that she tells the women Archie no longer fits into. Her personal donations are part of her mission to redefine charity into community.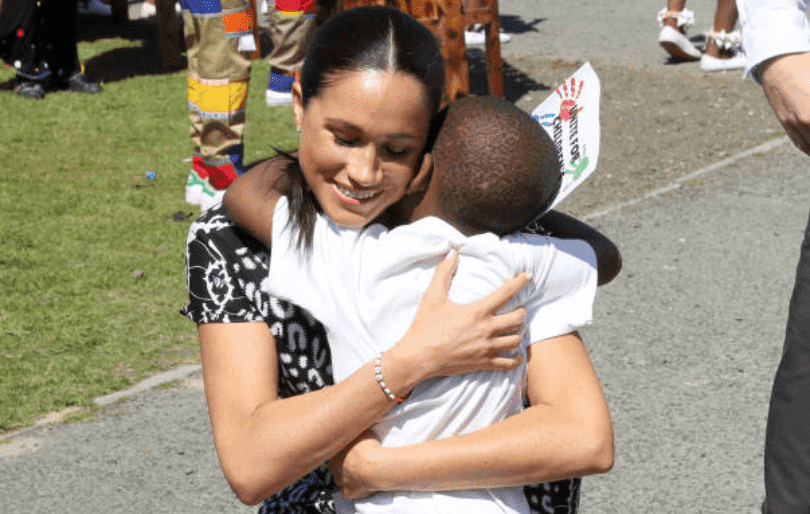 During her tour of Africa with Prince Harry, Meghan Markle hugs a young at the Justice Desk initiative in Nyanga township, on September 23, 2019, in Cape Town, South Africa | Getty Images
The idea of donating items that will be just as useful in her life as they would be in some else's life is similar with the work she is doing with her patronage, "Smart Works."
Please fill in your e-mail so we can share with you our top stories!