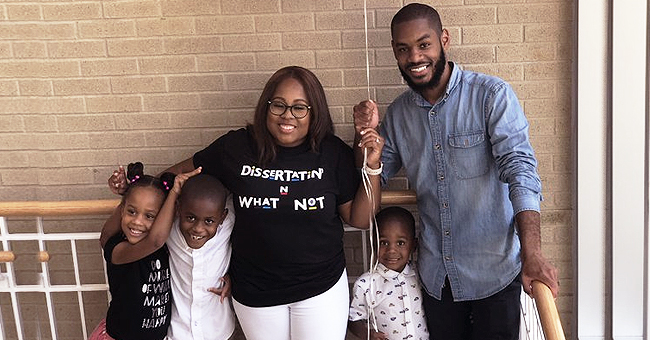 Twitter/hallofacademia
Missouri Mom Surprised by Her Kids Dancing to 1K Phew's 'We Did It' after Dissertation Defense

After passing her thesis defense in the university, this proud rmum got the best gift from her kids in celebration of her academic success.
Candace Hall couldn't be more delighted as her kids fueled her happiness by presenting a choreography to mark her success on her latest academic achievement.
The mother of three had spent an hour defending her dissertation in the pursuit of getting her doctorate in education.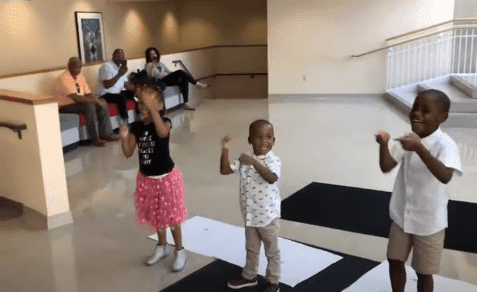 Kids performing to a song, "We Did It" : Photo: YouTube/Good Morning America
Hall started working on the project in 2017 and completed it last week. While defending her thesis, her kids- Edwyn, Bailey, and Avery patiently waited till she was done.
THE PLEASANT SURPRISE
The Missouri mum had no idea what her kids were up to until she left the hall where she had her presentation and found her three children lined up with placards to congratulate her.
The kids performed the song, "We Did It" by 1k Phew. The 31-year-old's joy knew no bounds after watchinh her kids' adorable presentation.
"I was shocked. I was happy. I was proud," she said.
For the last two years, It hasn't been easy for the latest doctorate holder since she has been stuck with her roles as a student, wife, mother and also a full-time academic program coordinator at Washington University.
She announced on her Twitter page @hallofacademia, her kids' celebratory dance for her in a video, which also went viral with over 1,000 retweets!
THE PERFORMANCE WAS PUT TOGETHER BY HER BEST FRIEND
Her children's godmother, who also doubles as her best friend (32-year-old Brittany Starks) organized the unannounced gesture by the kids.
Starks kept the children at her house for a day so they could learn the dance steps and also make the signs.
Edwyn, Candace's first child said,
"We spent like a day drawing on the [signs] and we did the dance one more time after drawing them."
HALL IS SO THANKFUL
Mrs. Hall thanks her family, especially her husband, Dorian, and mother-in-law whom she addresses as her "mother-in-love," for their support during the last two years of being a mom, an employee, and student.
She hopes that her decision to go for her doctorate at such an inconvenient time would be a source of inspiration to her kids, letting them know they can be whatever they want if they put their hearts to it.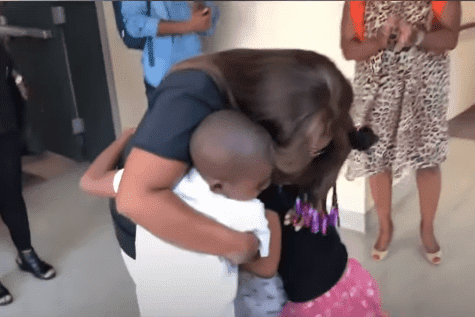 Candace Hall in a warm embrace with her kids | Photo: YouTube/Good Morning America
Still in a celebratory mood, Hall shares a family photo on her Twitter page with the caption:
"my motivation+my heart in one picture, WE DID IT!."
Please fill in your e-mail so we can share with you our top stories!