Meet Dany Garcia, 'Hobbs & Shaw' Star Dwayne 'the Rock' Johnson's 1st Wife and Mother of Their Daughter Simone
Dwayne Johnson shares a daughter with established entrepreneur and top celebrity manager Dany Garcia. Here's all to know about the gorgeous woman who, despite being his ex, remains Dwayne's manager. 
"The Rock," as Dwayne is popularly nicknamed, has been married only twice in his lifetime. He only most recently tied the knot with Lauren Hashian who he first started dating in 2007, the very year he divorced Dany Garcia, his first wife.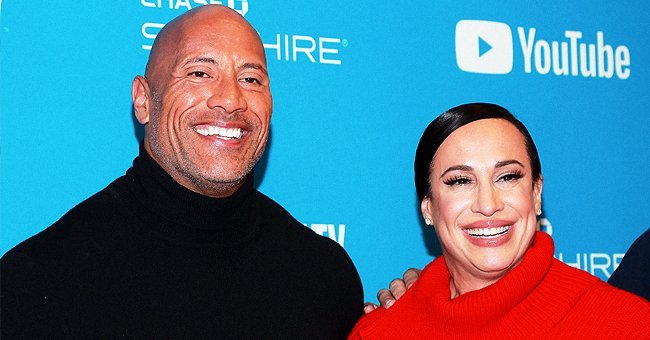 Dwayne's first marriage lasted exactly ten years before the pair announced that they were amicably parting ways. Here are a few exciting things to know about Garcia, who birthed Dwayne's oldest child, daughter Simone. 
GARCIA DECIDED TO BECOME A BODYBUILDER AT 40
Garcia shares a love for fitness with her ex-husband and never one to back down from chasing her dreams, the acclaimed movie producer decided to start bodybuilding at 40 years old. 
Garcia once revealed that her love for bodybuilding surfaced back when she was on the verge of becoming a teenager. It, however, took her decades to pursue that dream and thankfully, she has her daughter, Simone's loving support. 
The 18-year-old has aired support for her mother via social media. While Garcia prepared to compete in a bodybuilding event, the youngster lovingly expressed admiration for her mother via Instagram and honestly admitted that she is "so lucky to call her mom."
GARCIA WAS BULLIED AS A CHILD
While Garcia might make a foreboding presence for many now, it was not always so. During an interview with "Bullied But Not Broken," the 50-year-old explained that she was an outcast as a child. 
"I spent quite a few years with just a friend, maybe one," Garcia said while explaining that it was all thanks to her skinny frame, glasses and boyish name. 
The award-winning star further revealed that the bullying came to a halt in high school when she discovered her passion for sports and just decided to "start paying attention to the things that made me feel really great."
SHE'S MARRIED TO DWAYNE JOHNSON'S TRAINER 
Like Dwayne, Garcia has only been married once since following their split and it is to the actor's famed fitness trainer, Dave Rienzi. Garcia and Rienzi tied the knot in 2014 years after the latter became Dwayne's trainer. 
It was quite surprising for many considering how Rienzi and Dwayne share a tight-knit bond having worked together for many years to help the star achieve that buff physique he is most well-known for.
Reports, however, share that Garcia and Rienzi have Dwayne Johnson's full blessings. 
GARCIA REMAINS A VERY CLOSE FRIEND TO DWAYNE AND EVEN OVERSEES HIS CAREER
Dwayne and Garcia admittedly have the most admirable relationship ever observed amongst celebrity exes. She is his manager but what is most startling is the discovery that, at the time Dwayne asked her to take the job, they had already filed for divorce! 
The pair still managed to maintain their cordial relationship as business partners even following their split, and they seem to thrive despite their history together.
Variety also only recently aired reports that Garcia and Dwayne plan to team up with Powderkeg for a special comedy series. The only way they have been able to make such progress hand in hand is "therapy,"
Dwayne once jokingly said on "Good Morning America." Garcia has, however, explained that the secret is that they feel like "two friends who work together and have big dreams" and have the utmost respect for each other so that their friendship continues.