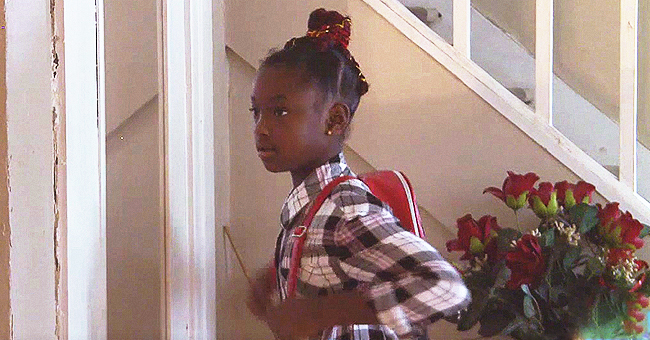 Twitter/people
Marian Scott of Michigan Left in Tears after She Was Denied a Class Picture Because of Her Hair

An eight-year-old Michigan student was left crying after she wasn't allowed to take a class picture because of red extensions in her hair.
Latoya Howard spoke to TODAY Parents recently, explaining how her daughter Marian Scott came about the red hair.
"Marian had been wanting colorful braids for a long time," Latoya, 35, told the outlet. The third-grader was then excited when her mom agreed she could wear it for school picture day.
Latoya continued:
"Marian couldn't stop staring at herself in the mirror. She kept saying, 'Thank you mom!' over and over again."
On Thursday, October 3, Marian proudly sported her hair extensions to school at the Paragon Charter Academy in Jackson, Michigan.
The young lady ended up disappointed, however, because the school staff did not allow her to take a picture, claiming Marian had broken picture day dress code.
Latoya and Doug say they didn't get the call but are now working on getting the school's dress code revised
"Marian had to stand in the hallway while everyone was taking pictures," Marian's dad, Doug Scott, also told TODAY. "They said she couldn't represent the school."
In an interview with TV station WILX, he added:
"This is uncalled for to pull them to the side. They didn't even call us. Marian didn't leave out the house, go down the street, and go get this done on her own. She's eight years old; we did this ourselves in our own home, and there's just no way I felt like this would happen."
Per TODAY, the parent and student handbook at the academy does state that "hair must be of natural tones." It also provides that headbands can only be in either of three colors: solid white navy, hunter green, or black.
A statement obtained from the school spokesperson Leah Nixon by TODAY claims staff members took great care to inform families about the dress code; an automated call was even reportedly made to parents as a reminder.
Latoya and Doug say they didn't get the call but are now working on getting the school's dress code revised. "My daughter is always happy, so to see her crying, it breaks my heart," Doug said.
According to NBC News, Doug and his wife said their daughter returned to school on Monday for the first time since the incident. Marian's hair is now all-black, WILX reported, and she looks forward to having her picture taken on retake day on November 12.
Please fill in your e-mail so we can share with you our top stories!