Bella Hadid: Scientists Claim Model Is Most Beautiful Woman in the World & Beyoncé Is Second
The internet is set abuzz as reports of how science has proven that American model Bella Hadid is the most beautiful woman over the world-famous singer, Beyonce surface.
Science proves Bella Hadid is the most beautiful woman in the world, The Daily Mail reports. 
HADID IS LABELED THE MOST BEAUTIFUL WOMAN IN THE WORLD
Hadid, who recently marked her 23rd birthday, reportedly fits the "Golden Ratio of Beauty Phi rule" rule because her face is absolute perfection. The so-called formula was created by ancient Greeks to calculate and, thus, quantify beauty.
The rule is a mathematical formula which was reportedly commonly used during the European Renaissance, by renowned artists and architects, like Leonardo Da Vinci, to create their masterpieces.
A SURGEON EXPLAINS WHY HADID IS THE MOST BEAUTIFUL WOMAN 
It appears the formula may just start trending yet again after a Harley Street surgeon, Dr. Julian De Silva, put together a list of the most beautiful women using it.
Dr. Silva mapped the eyes, brows, nose, lips, jaw, chin, and ears of each woman to determine who came closest to the ratio. He said:
"Bella Hadid was the clear winner when all elements of the face were measured for physical perfection."
The list includes other notable celebrities like Beyonce, Amber Heard, Ariana Grande, Kate Moss and Cara Delevingne with a rating of 94.35% to the Golden Ratio.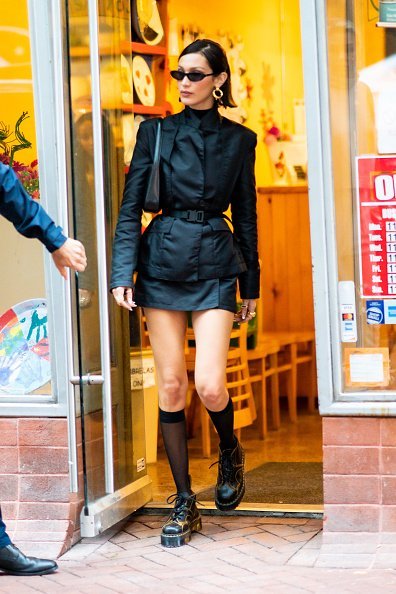 Harley Street surgeon Dr. Julian De Silva put together the list by mapping the eyes, eyebrows, nose, lips, jaw, chin and ears of each woman to determine
The cosmetic surgeon, who is known to apply the formula in his works, further explained:
"She had the highest overall reading for her chin, which, with a score of 99.7%, is only 0.3% away from being the perfect shape."
BEYONCE COMES IN SECOND! 
On the other hand, Beyonce, who is fast approaching forty, came in second place but she scored lowly on her forehead and brow area.
Da Silva explained:
"Beyoncé looks incredible as she approaches her 40s. She had a new perfect score for her face shape, but was marked down for her eyebrows and chin."
It, however, remains undecided how the Queen Bey's massive fan following will react to the findings considering how sensitive they are known to be. 
Since the news surfaced, past reports of how Hadid may have had "a little work done" are making the rounds again, but as they have always been, they remain unconfirmed.