Jill Duggar's Waist-Length Hair Is Criticized by Fans & They Think She Should Cut It
Fans are tired of Jill Duggar's signature long hair. Some people are suggesting that the reality gets a full makeover and cut her hair.
The Duggar women are known for maintaining elbow length long hair. Lately, its seems their signature look has ruffled the feathers of a few fans, who feel Jill Duggar would look better with a shorter hairstyle.
After Jill posted a picture promoting a lavender sweater sold by Cirtus and Lemon, Reddit users were more concerned about the state of her hair than they were about her paid partnership.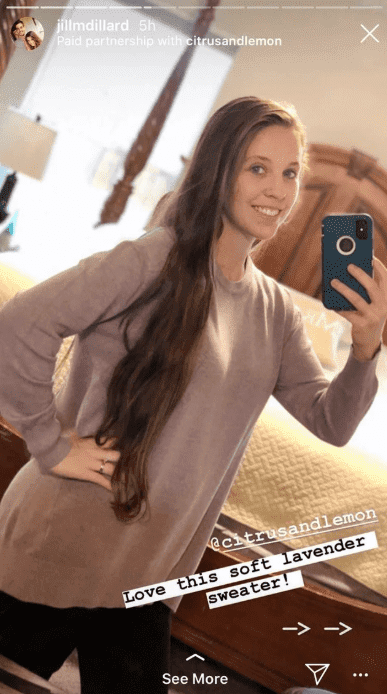 "I so desperately want to give her a make over. Cut off a foot of hair, deep condition it, cut in some layers for shape, blow dry and curling wand it. And some natural but flattering make up," says one user.

As she poses with her hair flowing down the side of her lavender sweater, another user couldn't hide their dislike for the look of her hair, the user comments:
"Looking at her makes me feel sad. Also I really really want to cut her hair, it looks so bad."

Not everyone was interested in seeing Jill lose her long hair, one user simply suggests that she keeps her hair long but just shapes it better, they explain:
"She needs to cut her hair. She needs to have it shaped. She can still keep it quite long if she wants to. It would make such a difference."

It is reported, the women in the Duggar family keep their hair long for religious reasons. In the 2014 tell-all book, "Growing Up Duggar," they reveal why they keep their hair long, it is explained:
"Our hairstyle is our choice and we choose longer hair based on our understanding of 1 Corinthians 11:14-15...while it is a shame for a man to have long hair, a woman's hair is her glory."
Keeping her long hair hasn't been easy to manage. A month ago, Jill shared hilarious pictures of her hair after her son had gotten his gum stuck in her hair.
Prior to the gum incident, in July fans were actually praising her after she went to a salon for the first time to get her hair done.
Jill mentioned how much she enjoyed getting her hair washed, trimmed and layered by her sister in-law Danielle Seewald.