Tyler Perry Praises Two Kids Dressed as Mr Brown & Cora Simmons for Halloween
Two adorable tots have captured the heart of film producer and actor, Tyler Perry, with their adorable, mini versions of the fictional father-daughter pair, Mr. Brown and Cora Simmons.
Still, in the spirit of Halloween, the internet is flooding with more pictures of trailblazing creative costumes, but this year, the kids seem to have it.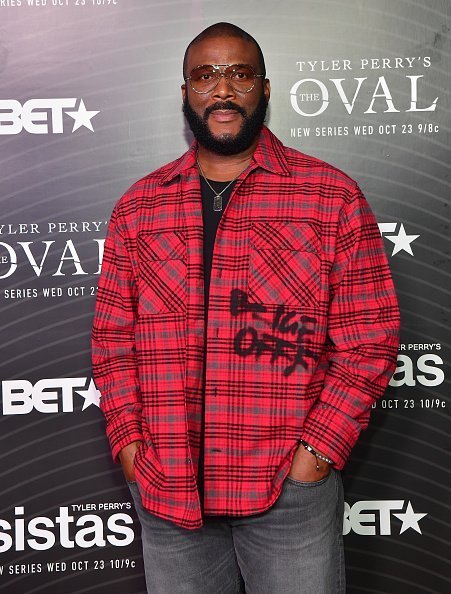 Two youngsters have gone viral after the legendary Tyler Perry got a whiff of their creative Halloween costumes.
MEET THE MINIS
The two lads stepped out for the big day in out-of-the-box costumes, a far cry from the conventional princess, fairies, superheroes, ghosts, or witches outfits. 
Rather they slew as Mr. Brown and his daughter, Cora Simmons, from Tyler Perry's television shows and movies.
The trailblazing toddlers looked hilarious in their costumes, and in addition to winning the movie producer's approval, they also got the thumbs up for being the funniest Halloween outfit ever.
TYLER PERRY'S BEST COSTUME AWARD
The director shared a photo of the two kids on Instagram with the caption:
"Ok. You win!! Best Halloween costumes ever!! Brown and Cora!!"
The picture showed the young lads sharing a hug, with the mini Cora dressed in a red sweatshirt and black maxi skirt, while the fictional Mr. Brown's double donned a pink and ash colored vest over a blue top and a pair of checkered shorts. His misfitting tie and white beards completed the Brown's effect.
KUDOS FROM MR AND MRS MANN
The Brown and Cora role players, David Mann and his wife Tamela, also took notice of their mini-mes, taking to social media to commend the creative makeovers.
"Hands down the funniest one we have seen!!!" the couple wrote, following pictures of the tots.
The duo has starred together as Brown and Cora in several of Tyler Perry's plays including "Madea's Family Reunion," "I Can Do Bad All By My Self," "Meet The Browns," and "What's Done In The Dark," among others.
MORE KIDS TAKE THE FRONT SEAT THIS HALLOWEEN
While the kids are stepping up this Halloween, celebrity tots took it up a notch with their jaw-dropping costumes. 
Among the trending costumes of the year are several jaw-dropping attires worn by celebrity children this holiday.
In a ranking by Hello Magazine, seven kids stood out for their gorgeousness, as they rocked their creative costumes, from True Thompson's swan lake outfit to Stormi Webster dressed as her billionaire mom.
Halloween might be over, but the ripple effects still trail the media, and the resulting excitement makes one yearn for an extension of the season, anything to see more of the amazing costumes.