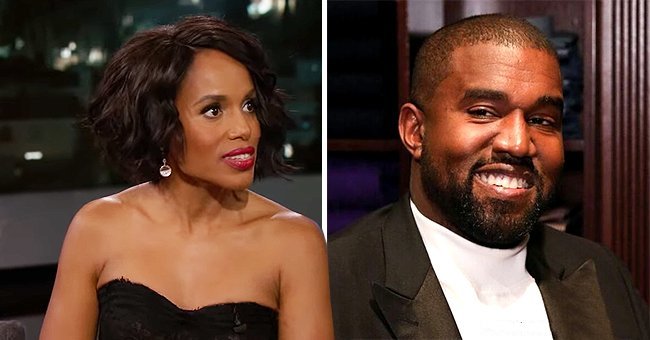 Youtube/Jimmy Kimmel Live GettyImages
Kerry Washington Hilariously Revealed to Jimmy Kimmel She Sometimes Gets Texts Meant for Kanye West
Kerry Washington, while appearing on "Jimmy Kimmel Live," stunned fans when she hilariously revealed she always gets texts meant for Kanye West, and the reason for it is quite reasonable.
Kerry Washington spilled a lot of tea while appearing on "Jimmy Kimmel Live," and chief among them is that she sometimes gets texts meant for the rapper, Kanye West.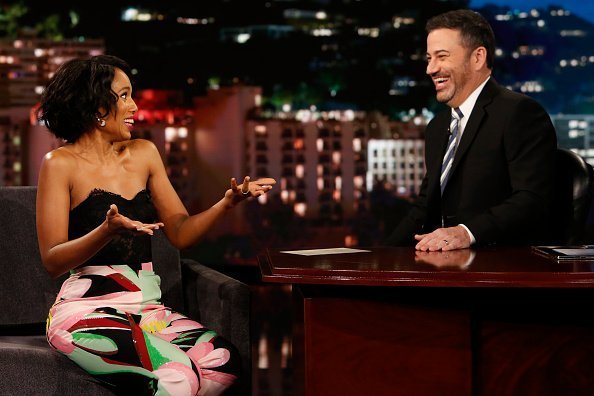 Actress Kerry Washington and Jimmy Kimmel on "Jimmy Kimmel Live!" | Photo:Getty Images
KERRY'S HILLARIOUS REVEAL
Jimmy Kimmel, the host of the show, asked Washington if she knew beforehand that West planned to include her name and a reference to the Shonda Rhimes, series "Scandal," in his 2018 song, "All Mine," and she responded,
"I did not get a heads up."
The actress said she woke up with her phone vibrating the day after the song got released, and when asked if she and the rap star were friends, she replied,
"We are friendly, we have a lot of friends in common, we are not actually friends, and I think actually, about once a year, I think a lot of people have us programmed in their phones as 'KW.' So, I get a text like once a year, where I go, 'No, that's not for me.'"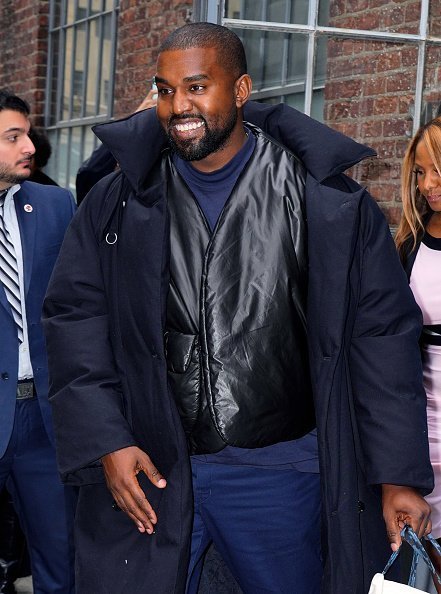 Kanye West at on November 07, 2019 in New York City | Photo: Getty Images
JIMMY AND KERRY HAVE BEEN FRIENDS FOR YEARS
The hilarious explanation got Kimmel and the studio audience laughing. When the host asked if she has ever been to West's, Sunday Services, Washington responded no, but she would love to.
However, when the question switched to voting for the "Follow God" rapper should he run for public office in 2024, the "Django Unchained" star chose not to answer either yes or no.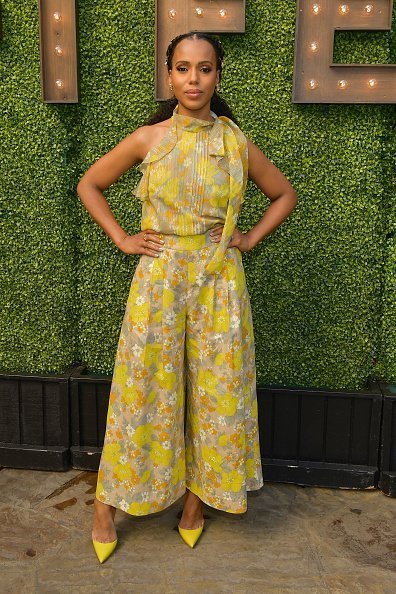 Kerry Washington attends the 'Indie Contenders Roundtable' at AFI FEST 2019 | Photo: Getty Images
Washington and Kimmel have been friends for years, and early this year, they collaborated on "Live in Front of Studio Audience: Norman Lear's All in the Family and The Jefferson's." In it, the actress played "Helen Willow," the wife of "Tom Willow."
FARRELL IS IMPRESSED BY WASHINGTON'S "PAJAMMIES"
While the actress always thought the talk show host recommended her for the role, it turned out that Will Farrell, the actor who played her husband, who did, and Washington joked that she must have impressed him dressed in her "Pajammies" when they meet outside their children's school.
Washington and Kimmel will also work together on the live stage production of the Christmas episodes of "All My Family" and "Good Times," set to air on December 18th, with the actress serving as a producer.
In the meantime, fans of the woman who portrayed "Olivia Pope" can watch her on the Netflix film, "American Son."
Please fill in your e-mail so we can share with you our top stories!