Joanna Gaines of 'Fixer Upper' Fame Posts Cute Photo of Daughter Emmy Getting Help from Little Brother Crew as They Make Cookies
Joanna Gaines' daughter, Emmie, and her son, Crew teamed up to create their own original recipe of cookies. The mother of five gushes over her children's cooking skills.
Over the weekend, Joanna Gaines proudly showed off her children's cooking skills. Her son, Crew Gaines, and daughter Emmie Gaines teamed up to create an original cookie recipe. In her caption, reveals:
"[Emmi] was determined to make up her own cookie recipe and I left the kitchen so she could surprise me (and so i wouldn't micromanage her work in the kitchen?). Let's just say this was one of my favorite cookies I've ever tasted!" 
In the picture, Emmie looked focused; as she stands in the front of a small table, and carefully rolled out her cookie dough on.
Sitting opposite her on a tiny chair, her brother, Crew sat and watched tentatively, and held on to two cookie shapers in his hands.
Joanna and her husband, Chip Gaines, are considered self-made millionaires. They have several thriving businesses, from a restaurant, magazine, television show, bed and breakfast, home decor collections and house flipping business. 
In the past, Chip admitted to PEOPLE, that working together hasn't always been easy, but the couple makes an effort to work on their relationship all the time.
Adding to their businesses, they have also branched out as authors and have a best-selling memoir, self-help book, and cookbook. 
With Emmie and Crew teaming up for an original recipe, a fan believes that the family could have another product to add to future cookbooks or their restaurant.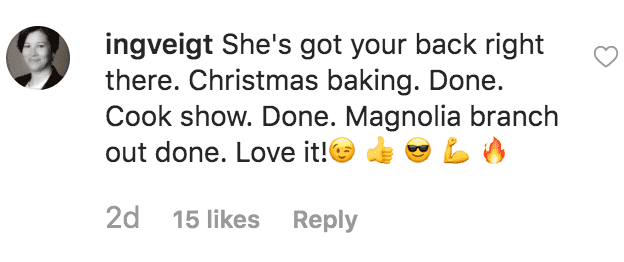 The brother-sister duo might have winged their latest creation but from Joanna's reaction, they seem to have inherited their parent's entrepreneurial spirit and made elements that any cookie lover would enjoy, she describes the cookies saying:
"It was like a perfect blend of a shortbread cookie and chocolate chip cookie topped with a yummy icing. I also love what she named them in her little cookbook, 'Emmie Kay's chocolate chip kisses cookie' ❤."
Since appearing in episodes of "Fixer Upper," Joanna and Chip's children have always been involved in assisting their parents with various small jobs, from picking décor to gardening. 
With Emmie and Crew taking over the kitchen, it is clear the next generation of Gaines' is slowly following in their parent's footsteps.