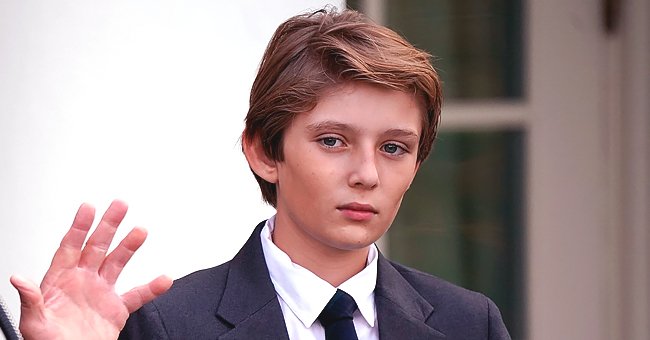 Getty Images
Donald and Melania Trump's Teen Son Barron Looks Taller Than His Parents as the First Family Arrives Back in DC after Thanksgiving
Barron Trump stands tall over his parents, Melania Trump and Donald Trump, as they arrive back in Washington D.C after spending their Thanksgiving in Florida.
Barron Trump's growing stature is once again the talk of the town as he tower's over his parents, Melania Trump and Donald Trump, while disembarking from the Air Force One.
In a rare public outing, Barron accompanied his parents to Mar-a-Lago, Florida, for the Thanksgiving holiday.
Lagging behind hid parents as they stepped out the plane, Baron's head is only inches away from touching the top of the plane door. The 13-year-old's cell phone shone from his hand as he stood behind his parents waiting to get into their vehicle.
It is reported, standing over Melania at 5 feet 11 inches and Donald, who is 6 feet and 3 inches, Barron is possibly close to 6 feet 4 inches by now.
Wearing a similar outfit to when the family departed from Washington, he returned wearing a bomber jacket, black new balancesneakers. This time he wore a white shirt.
Without a tie for his arrival, Donald also wore a white shirt, a long black coat, and a red MAGA cap. Melania opted for a formal look, wearing a tight-fitting eggshell dress under a matching trench coat.
Melania was dressed for a special event as she touched down in Washington D.C. She had the honor of debuting the White House Christmas decorations, which she were specially selected for the holiday season.
This year she went for a traditional look, sticking to a white, green, and gold color scheme, the halls of were lined with several brightly lit trees that included "Be Best" ornaments in honor of her initiative.
The more natural aesthetic is a complete contrast to the White House Christmas decorations for 2018. Melania specially selected 14,000 red cranberry ornaments on 29 triangular topiary trees to line the Cross Hall and Grand Foyer halls.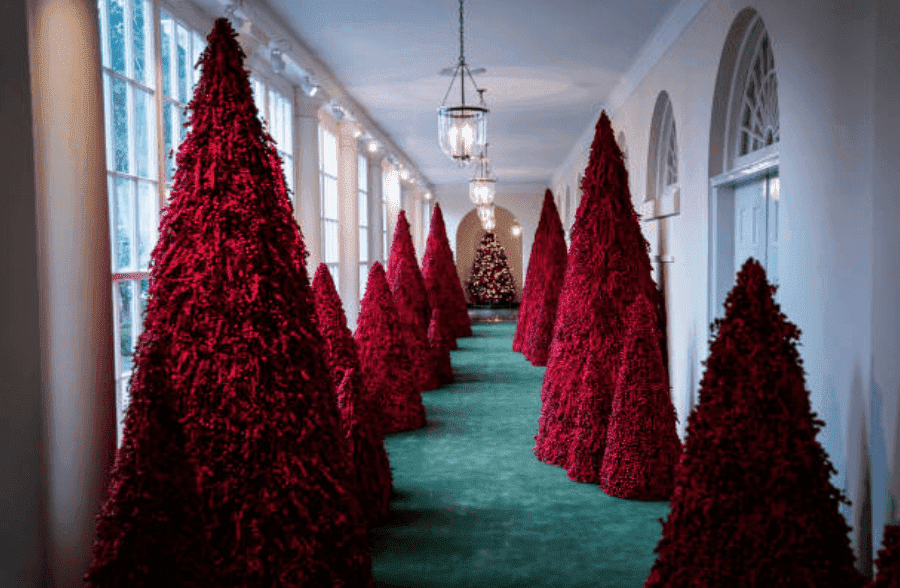 Red Christmas trees chosen by Melania Trump for Christmas decorations line the East Colonnade of the White House, on Monday, Nov. 26, 2018, in Washington, DC | Source: Jabin Botsford/The Washington Post via Getty Images
Her unique take with red trees represented the stripes on the presidential seal to symbolize valor and bravery.
However, it was not received well by the American public, who seem to prefer the more traditional look she went for this year.
Please fill in your e-mail so we can share with you our top stories!