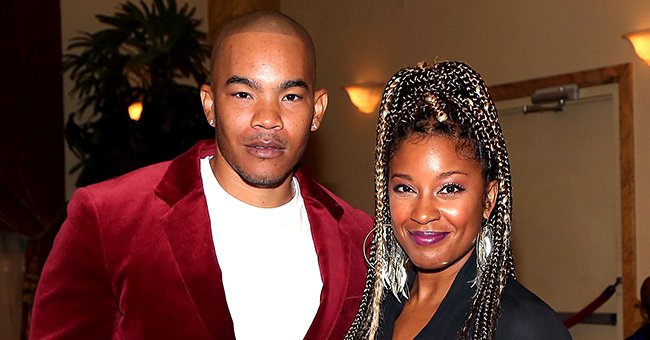 Getty Images
Reagan Gomez-Preston from 'The Parent 'Hood' Celebrates 20th Anniversary with Husband DeWayne Turrentine
Reagan Gomez-Preston from "The Parent'Hood" celebrates her 20th wedding anniversary with husband DeWayne Turrentine after getting married during their teenage years.
It's been two decades since Reagan Gomez-Preston married her childhood sweetheart DeWayne Turrentine, and up until today, their love remains strong.
The "Parent'Hood" actress decided to share a photo from their wedding day and more photos of their relationship through the years to celebrate their anniversary, and fans were delighted.
THEIR WHIRLWIND WEDDING 20 YEARS AGO
It turns out, Reagan and DeWayne decided to get married in a casino on November 19, 1999, and because they were too young, they had to wait for their mothers to check into the hotel for them to get married the next day.
A good 20-years later, their love remains strong, and they've been blessed with beautiful children that they treasure and adore.
SHARING THE SAME LOVE
Sharing the same love as his wife, DeWayne wrote a loving comment on the appreciation post, saying:
"God really loves me, for He gave me the most beautiful/wonderful person and chose her to be my lifetime partner. I will always be grateful. I searched all the dictionaries to find the meaning of life and I found nothing. But when I looked into your eyes, I found everything. Happy anniversary my Queen!!!!"
GROWING UP AND GROWING OLD TOGETHER
With so much love in their hearts even after getting married as teenagers, Reagan and DeWayne are proof that in true love, you may opt to grow up and grow old together instead of separating to "find oneself."
Reagan is famously known for her character on the '90s sitcom "The Parent' Hood." Earlier this year, she reunited with her co-stars Curtis Williams and Ashli Adams, who are also all grown-up with their own families.
REAGAN'S HOLLYWOOD CAREER
The trio starred in the TV show for five seasons from 1995 to 1999 and were siblings on the show.
After her work on the show, Gomez-Preston went on to work on "Steven Universe," and "Queen Sugar." She also produced and starred in her own web series called "Surviving."
Please fill in your e-mail so we can share with you our top stories!