Chris Brown's Daughter Royalty Gets into Big Sister Role with Her Little Brother Aeko
Chris brown's five-year-old daughter, Royalty, seems to enjoy the role of big sister to her little brother, Aeko.
The American singer's first and last born were caught on camera having a brother and sister bond. They both looked adorable together.
Chris Brown took to his Instagram page to post a picture of his daughter, Royalty, and his newly born son, Aeko, in what looked like a bedroom. The five-year-old is shown holding her little brother's legs like she was about to change his diaper.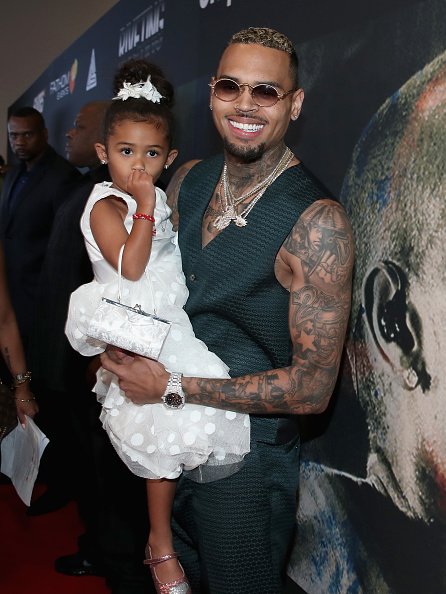 In the picture, Royalty is wearing a festive holiday sweater with a tiara attached to her neatly tied hair looking down at her brother. Aeko, on the other hand, lies patiently with a pacifier in his mouth and looks into the camera.
On the same day, Royalty posted an identical picture on her Instagram page with the caption"Little Brother! Chris captioned his post:
"BIG SIS CHANGING DIAPERS"
The post attracted tons of likes. His fans and followers also took to the comment section to drop comments on how beautiful his kids are.
Before the birth of Aeko, Royalty already got to experience what it's like to have a younger one. Earlier this year, her mom Nia Guzman, gave birth to a baby girl with whom Royalty has spent a lot of time. 
Chris has had several relationships in the past, including some high profiled ones with celebrities like Rihanna and Karrueche Tran.
Chris announced the birth of his newborn with a post on his Instagram page, which he captioned with Aeko's full name, Aeko Catori Brown. Since then, he has not hesitated to post pictures of his son and hasn't stopped putting up posts of his daughter.
After the adorable post of his two children, Chris went on to post another video featuring just his firstborn. In the video, Royalty is seen playing in a white Balenciaga outfit, which he gifted to her. He captioned the post:
"I asked her what she wanted for Christmas, and she says... 'BALENCIAGA.' 5-year-old swag."
Before Aeko was born, Chris and his baby mama, Ammika Harris, never publicly confirmed the status of their relationship neither did they confirm that they were expecting a child. The news of her pregnancy first broke out in June, although fans had already caught on as early as May.
Even after Aeko's birth in late November, the couple kept him away from social media for about three weeks. Chris, for the first time, announced the birth of his son on December 11.
It's unclear how Chris and Ammika met, but they have been on and off since 2015. Although the status of their relationship is still unclear, the duo seems to be in a good place now that they share a child.
A source revealed to HollywoodLife that Chris is head over heels in love with his son and is so grateful to Ammika for bringing him into this world. The 30-year-old has had several relationships in the past, including some high profiled ones with celebrities like Rihanna and Karrueche Tran.