Michael McKean and Annette O'Toole on Their Beautiful First Date
Michael McKean and his wife Annette O'Toole open up about how after knowing each other for decades, they eventually fell in and have been married for another two decades.
Comedian Michael McKean and his wife Annette O'Toole, went on a first date that changed their lives forever. The couple had known each for over a decade through mutual friends.
In an interview with Theater Mania, they revealed that after both going through divorces, they started off their friendship just emailing each other. At the time Annette lived in Oregon and Michael was based in Los Angeles 
They had just come from filming the movie "Final Justice" in which they starred as each other's rivals. However, onset, they found themselves bonding over their children and love for reading.
One fateful evening Annette recalls Michael calling her and asking if she wanted to go on a date with him. Not realizing he had been interested in her all these years, she joked that she could hear it in his voice that he had genuine feelings for her.
September 15, 2019
Annette said she jumped at the opportunity to go on a date with him. She described her reaction as something straight out of a movie scene because she ran straight to the bathroom and started jumping up and down.
Annette said their date was in two parts. First, she accompanied Michael to pick out boots at a place called "Shoe Lord."
#NewProfilePic pic.twitter.com/obevCjd7Oa

— Annette O'Toole (@_amckean) August 31, 2017
Fate was on their side when Michael left his old pair of shoes in a box, and the shop assistant unknowingly told him that he handed the box to his wife. In reponse, Annette jokingly replied:
"In case you wondering my answer is yes."
3/20/99
(Photo: @jamieleecurtis) pic.twitter.com/GGQQP0KHgF

— Michael McKean (@MJMcKean) March 20, 2019
The second part of their date ended with them clinging to each throughout the entire set at a Van Morrison and Bob Dylan concert. Looking back at their love story Annette said:
"It came out of the blue."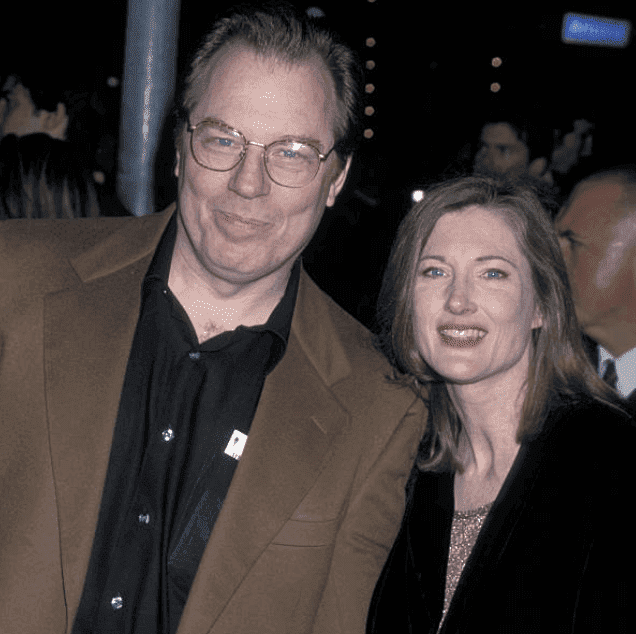 By 1999 the couple were married and living together with two children they each had from their previous marriages.
Decades later, music would strengthen Annette and Michael's bond once again when they collaborated on the single, "A Mighty Wind."
Off to the Emmys, so I'm told. pic.twitter.com/LLSpqr8Uud

— Michael McKean (@MJMcKean) September 15, 2019
Their partnership proved just as successful as their marriage. In 2004 it was nominated at the Academy Awards for the "Best Music, Original Song award."
That same year the song won a Grammy Award for" Best Song Written for a Motion Picture, Television or Other Visual Media."