Chris Farley Was a Talented Physical Comedian - Here's a Look at the Ups and Downs He Faced in His Life
The irreverent performer led a short-lived but intense career in both TV and film, but it wasn't exactly a fairy tale for the small-town boy that moved to New York City with a dream and was caught by excess.
The late comedian and actor Chris Farley (1964-1997) was one of the most original and iconic performers to have come out of the comedic institution that is the late-night show Saturday Night Live.
A 33-year-old Farley was already on his way to conquer Hollywood, but his own demons and bad decisions cut his promising life short. Here are some stories about him to help us keep him present.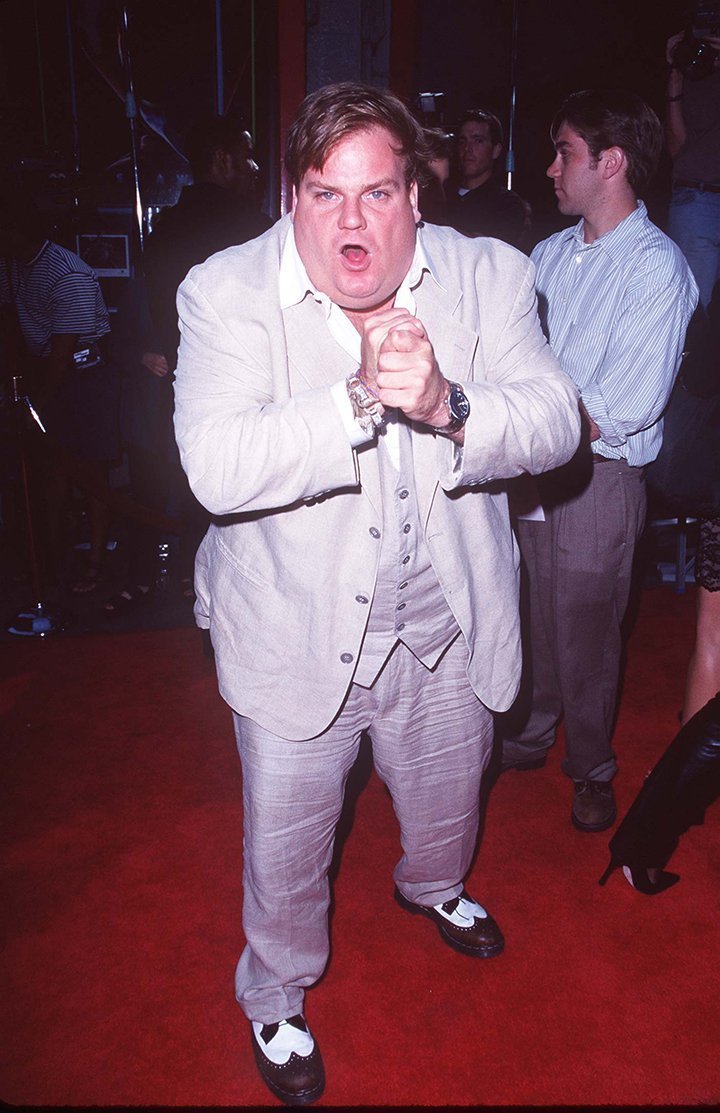 A VORACIOUS EATER
Farley was famously overweight most of his life, weighing 296 pounds at the time of his death, according to the medical examiner that made his autopsy. As an adult with an addictive personality, he was prone to eat copious amounts of food.
"He would say, 'You got the T-bone steak, uh, yeah, okay, and do you have...' And he'd name like six things. You're like, 'Wow, he's getting six things?' And then he would say, 'Ok, I'll take two of those'... He'd always double down," friend Adam Sandler told Conan O'Brien about Farley.
MIKE MYERS WAS AFRAID OF HIM
Fellow SNL comedian Mike Myers once admitted that he used to be scared to have to work in a sketch with the famously wild physical comedian since he never knew what was Farley going to come up with.
Farley, who joined SNL in 1990, had already knocked someone's tooth and left someone else scarred during one of his routines, which made improvising with him a sort of extreme experience for the "Austin Powers" star.
GUY IN A LITTLE COAT
As many of his friends acknowledge, Farley stopped at nothing when he wanted to make people laugh. But even in the most ordinary settings, such as in an office, he could manage to make someone crack up without a real effort.
According to comedian David Spade, the silly Fat Guy in a Little Coat gag, which ended up in the film "Tommy Boy" (1995), came out of boredom as Farley and he tried to come up with jokes in a confined space.
"He would get behind me and be bored, everyone would write him sketches, and he would say "Davey… turn around" and I said, "if this is Fat Guy in a Little Coat I'm not turning around, it's not funny anymore." And he would say, "no, I've got a whole new thing I'm doing," Spade recalled.
"And then I'd turn around, and it would be him in my Levi jacket, and he would say "Fat guy in little coat! Don't you give up on it!" the actor shared in a Reddit AMA in 2015.
CON VICTIM IN NEW YORK CITY
Farley had the justified reputation of being a wild troublemaker, but there was also something noble and even naïve in his personality, as a story of the first time he visited New York City, coming from his hometown in Wisconsin, confirms.
"Chris opened the window and yelled out of the car, 'I'm in New York City!' And he was waving at everybody. He didn't have a debit card yet so [his brother] Tom took $500 out for him," filmmaker Brent Hodge told The Fix in 2015.
"He was walking around the streets and he saw guys doing the three dice game where they hide the dice and it's all rigged. In the first round, Chris put the $500 on it and lost it all," the co-director of the documentary "I Am Chris Farley" added.
17 TIMES IN REHAB
Farley's proclivity to excess and self-destructive behavior was very well known for those closest to him, and this was a key part of his behind the scenes personality. In the end, it was his abuse of substances that took his life at a young age.
And it is not as if the comedian didn't seek help since he went in and out of rehab no less than 17 times in the last seven years of his life. But it wasn't enough to prevent the tragedy.
In the opinion of the "I Am Chris Farley" documentary co-director Derik Murray, his departure from the familiar and team-oriented environment of SNL in 1996 only made his drug use exacerbate, which led to his death the following year.
HE DIED AT THE SAME AGE THAN HIS HERO
Farley was a great admirer of late comedian and fellow former SNL star John Belushi, who died of a drug overdose in Los Angeles in 1982, at age 33. Their similarities ended up becoming a sort of bad omen about Farley's own end.
In one of his latest interviews, with Rolling Stone magazine, Farley was asked whether he was actually trying to emulate Belushi, which he wasn't sure how to answer.
"I don't know. I never met the man. Maybe I tried to be [like him]. But I don't think so. Anyway, I'm fatter than him now. Did you know that he died at my age this year, at 33? Yeah. March 5, 1982," Farley replied in the end.
HE WAS FIRED FROM SNL AT THE SAME TIME THAN ADAM SANDLER
In 1995, Farley and Sandler were the indisputable stars of "Saturday Night Live," but this later proved to be a double-edged sword for the two comedians, which were suddenly fired on the same day the following year.
While Sandler said many years later that he didn't know what led to his and his friend's firing, it has been suggested that SNL producer Lorne Michaels took the extreme measure to give the show a fresh start after receiving poor ratings.
HE WAS GOING TO BE SHREK
Farley will probably always be remembered for his over-the-top physical performances as a comedian and actor, but his voice work, sadly interrupted by his death, might have been his definite role.
When Farley passed away, he was working in an animated project titled "Shrek," lending his voice to the main character, an ogre that was going to revolutionize animated films with the release of the movie in 2001.
Farley had reportedly recorded 85% of his lines when he met his tragic demise, leaving the producers no option but to cast Farley's former co-star Mike Myers, who did a fantastic job.