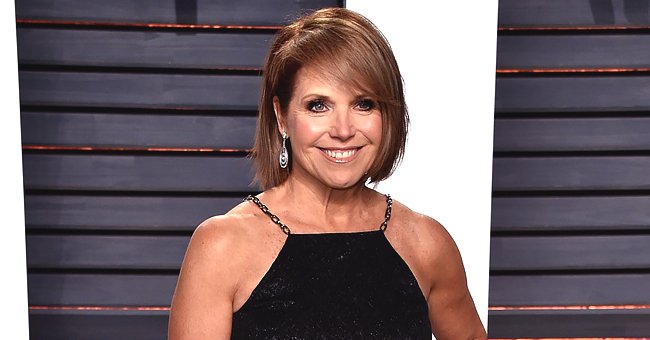 Getty Images
Katie Couric from 'Today' Paid Emotional Tribute to Late Husband Jay Monahan 22 Years after His Passing
Death is inevitable and part of the cycle of life. Fully knowing of this reality, Katie Couric paid tribute to her late husband, who died 22 years ago.
On her Instagram account, Couric posted an old photo of her late husband, Jay Monahan. It was an emotional and beautiful tribute to her first husband.
"Dear Jay. You left us 22 years ago Today. You'veYou've never left our hearts," the American TV personality said in her caption.
Katie Couric visited "Mornings With Maria" at Fox Business Network Studios on March 20, 2019 in New York City. | Photo: Getty Images
GOOD OLD DAYS
In the photo, Monahan was holding their two children, Caroline and Elinor. Couric's Instagram followers were quick to send in heartfelt messages to her and her children.
The 63-year old American TV journalist married Monahan, a lawyer, in 1989, as reported by Closer Weekly. She met Monahan when she was a correspondent for "Today" in Washington, D. C.
Death separated the couple after Monahan died of colon cancer in 1998 at the age of 42. She became a single mother and did her best to balance her family and her booming career at that time.
RUSH OF NOSTALGIA
Last year, Couric also posted a few of their old wedding photos on Instagram. The picture highlighted their love for each other and their happiness.
"I hope you would be proud of the way I've lived my life and know you'd be proud of your girls who have grown into incredible young women," she said, as reported by Today.
Just recently, Couric's eldest daughter, Ellie, got engaged to his fiancé Mark Dobrosky.
LOVE THE SECOND TIME AROUND
Couric added that Monahan will surely like her present husband, John Molner, who works as a banker. Molner also honors Couric's late husband every anniversary of his death.
Molner and Couric met in 2012, after a few failed relationships. The two married in 2014 after ten months of engagement.
Her two daughters are supportive of their union. Even if she remarried, Monahan's special place in her heart remains.
Just recently, Couric's eldest daughter, Ellie, got engaged to his fiancé Mark Dobrosky. The proposal was made in the sweetest way.
Couric revealed that the engagement ring used by Doborsky was the same ring given to her by Monahan, as reported by Good Housekeeping. The memory of him will surely live on!
Up until this day, Couric is actively advocating for colon cancer awareness. In 2002, she underwent a colonoscopy on-air as a way to raise the detection and knowledge of the disease.
Couric recently shared how frantic she was when Monahan was diagnosed with colon cancer. She also felt hopeless because there was no exact cure for the disease.
Please fill in your e-mail so we can share with you our top stories!