Military Son Surprises Texas Mom as She's Sworn in as Police Officer after Not Seeing Each Other for 2 Years
A Texas police officer had an extra special swearing-in ceremony when her military son stationed overseas showed up to pin the badge on her uniform.
Erika Benning had realized a lifelong dream by becoming a police officer. But as she got sworn in as a cop with the Irving Police Department in Dallas, Erika received a heartwarming surprise.
ERIKA'S SURPRISE VISITOR
The 42-year-old mom had just completed her oath, and with only her new badge left to be pinned to her uniform, Erika's 21-year-old son, Army sergeant Giovanni Pando suddenly appeared to do the honors.
Mother-and-son hasn't seen each other in over two years since Giovanni is stationed thousands of miles away in Germany, and Erika's reaction exuded pure joy.
Between Giovanni, Erika's husband, and the police department, they coordinated the perfect surprise, and Erika became so overwhelmed with emotion that she burst out in tears.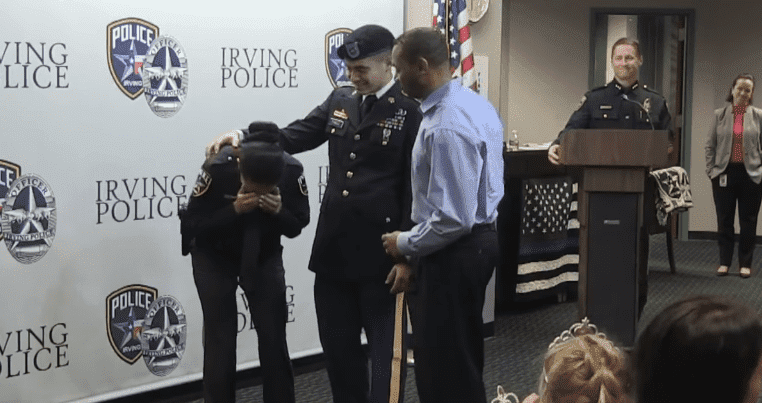 A REUNION THAT TOUCHED EVERYONE
Looking dapper in his uniform, Giovanni quickly went over to his mom to comfort her, and the police department shared the emotional clip with a caption that revealed they had a hard time fighting back the tears as well and wrote:
"All swearing-in ceremonies are special but every once in a while one tugs at your heartstrings a little more than others."
The experience was equally "overwhelming" for Giovanni, having missed his mom and also being happy that her dream became a reality.
During an interview with CNN, Giovanni admitted that he also shed a "little bit of tears" while he tried keeping his composure.
WHAT IT MEANT TO ERIKA
An immigrant from Honduras, Erika, fell pregnant with Giovanni at a young age. After graduating from high school, he joined the US Army, followed by his consequent deployment to Germany.
It's the first time mother and son have been apart so long, and they maintain weekly conversations where possible. So as soon as Erika realized Giovanni "was real," she could feel her body react by tightening up and added:
"I just didn't want to pass out because I wanted to enjoy every moment of it. He's the reason why I wake up every morning. He's my world."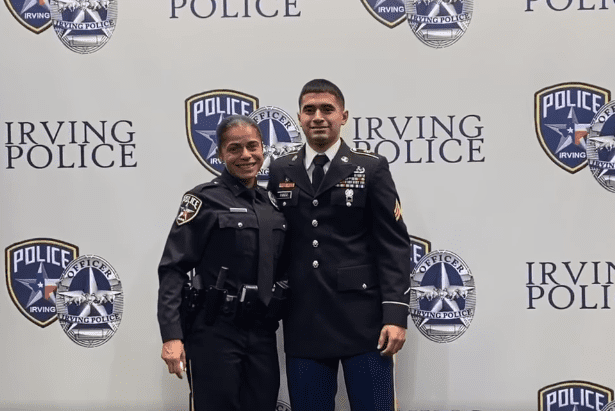 A SIMILAR REUNION
Sarah Walters worked in nursing for about ten years before she decided to earn a degree as a registered nurse.
In May last year, as Sarah stood on the stage during a nursing ceremony at Lorain County Community College ready to receive her pin, her son came out to do the honors.
Army Private First Class Jacob Walters hadn't seen his mom in almost two years, and he joined her on stage to a standing ovation to pin his mom on her big day and hug her.
A DIFFERENT KIND OF REUNION
While deployed in Iraq, Vincent Buggs started receiving letters from kindergarten students. As they wrote back and forth over a period of thirteen years, it gave Vincent a sense of normalcy.
Their letters gave him comfort in the face of difficult times, and when he returned last year, Vincent went to surprise the students, who are now in high school, with a visit to express his gratitude.