Chris Brown's Daughter Royalty Flashes Wide Smile in Photo with Her Dad
Chris Brown is a doting father to his two kids, Royalty and Aeko Catori, who make appearances on his Instagram every now and then. Recently, the singer melted his fans' hearts with a picture of himself with his daughter Royalty. 
Chris Brown's five-year-old daughter, Royalty, has made yet another appearance on his Instagram! The little one smiled brightly alongside her father and he looked upon her in an Instagram post. 
"Mini me," Brown aptly captioned the post. Fans took to the comments section to mention how similar the father-daughter duo look. Many of them even remarked how big Royalty has gotten. 
A DOTING FATHER
Previously, Brown took to Instagram to share an adorable photo of his son, Aeko. He is the youngest son of Brown and his former partner, Ammika Harris. 
Just like his sister Royalty, Aeko shares a resemblance to his father. According to "Hollywood Life," ever since Aeko came into the duo's life, Brown and Harris have been close. 
According to what a source reportedly shared with "Hollywood Life," Harris is a nurturing mother who is protective of her child. 
"She is so protective of Aeko, she's constantly holding him, staring at him, and never wants to put him down."
Meanwhile, Royalty was born to Brown and his former model partner, Nia Guzman. Although Guzman and the singer were never in a formal relationship, they are committed to raising their child with all the love and care that they can provide. 
HIS BABY MAMAS
During the initial days of her life, Royalty made headlines because it wasn't clear whether Brown was her biological father.
It wasn't until about a year after Royalty was born that Brown took a series of DNA tests and confirmed his paternity on his Instagram. She was born on 27 May 2014 in Texas. 
How Brown and Harris met is still unclear but they were romantically linked in 2015. The couple dated on-and-off in the years that followed. Currently, they don't seem to be in a formal relationship.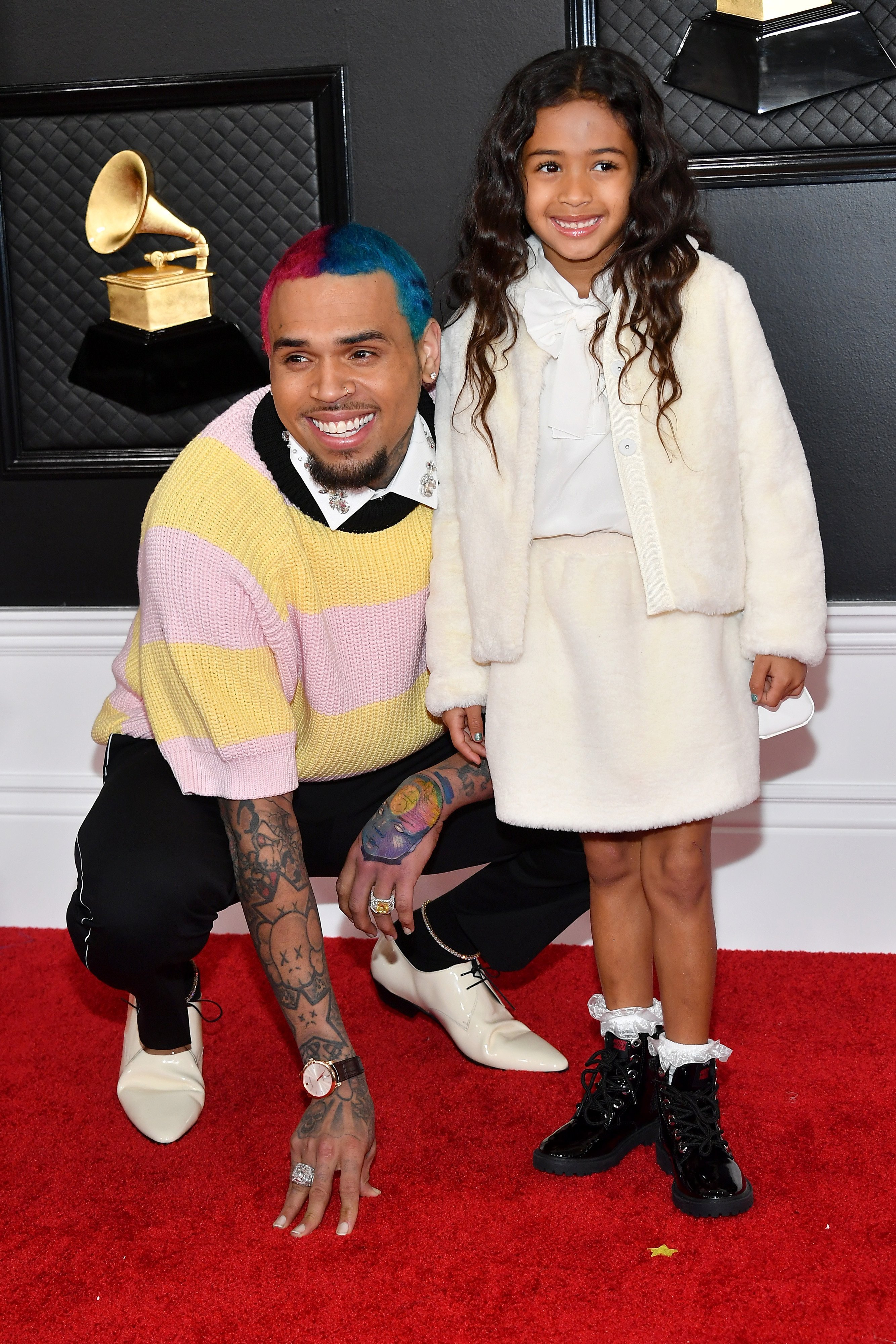 Harris and Brown initially kept the news of her pregnancy under the sheets. On December 11, the singer officially announced Aeko's arrival with an Instagram post. 
No matter where his relationship stands with the mothers of his children, Brown has been a doting father to Royalty and Aeko. His social media posts make it pretty evident that he spends quality time with his little ones.